Long Term (Monthly) Rentals in Sayulita
Long term (monthly) rentals in Sayulita can be challenging to find. It seems everyone who visits Sayulita wants to return for a longer stay, and this can sometimes mean that inventory is low and prices can be high. With most vacation rentals only renting by the night or week, especially during the winter months, finding a monthly, long term rental for an extended vacation or if you want to move to Sayulita is challenging but totally worth it.
There are many great neighborhoods in Sayulita and where you choose to live depends upon what type of lifestyle you are looking for. Check out this article about Sayulita neighborhoods to see what may suit you.
Love to surf or SUP? Choose a rental within easy walking distance to the main or left surf break, and that has lockable storage for your board(s).
Need high speed WiFi in order to work from home? Be sure to check with the homeowner to see what options are available. The further from the center of town, it may be more difficult to obtain. Be sure to check with the homeowner to see if Internet is included in the rent.
Sensitive to noise? Mexico can be an exuberant country! The further away from Centro, the quieter the nights will be.
Have a car? Parking can be an issue in Sayulita, with the narrow, cobblestone streets. If you have a vehicle, consider looking for a place that offers its own parking on the property.
Where to shop for groceries? Most neighborhoods in Sayulita will have small tiendas where you can buy snacks, drinks, bottled water and a few staples, as well as fruit/vegetable stands where you can purchase fresh produce. The larger grocery stores in Sayulita are located in the central part of town and are within walking distance from most neighborhoods. There you can find a wider variety of food, including some imported items you may be missing from your home country.
Utilities such as water and telephone are sometimes included in monthly rent, but electricity is usually not included and can really add up in Mexico for high usage. Electricity is super cheap if you use below the government standard, and power bills are subsidised. If you run air conditioners your usage will head into the "red zone", the government subsidy goes away, and the prices skyrocket. It can really add up during the summer months. Please note electricity is not usually included in rent prices.
Rent/deposits/what's included: Deposits can vary widely between homes, so be sure to do your homework and ask lots of questions. Expect to pay higher rents in Sayulita than you would in other areas of Mexico. If you are lucky enough to find a rental home with a pool and tropical gardens, often times the pool service and gardening are included in the rent.
Safety: Overall, Sayulita is a safe place to live and vacation. However, as with anywhere in the world, it is a good practice to keep gates, doors and windows locked, even when at home. Get to know and make friends with your neighbors so you can look out for each other. Most crime in Sayulita is theft of opportunity, and an unlocked gate or window can lead to loss of property.
Current Longterm rentals in Sayulita
Condos del Sol longterm rentals
Bedrooms:2
Bathrooms:1 or 2
Furnished:Yes
Pets:Yes
Parking:Yes
Pool:Yes
Notes:Brand new units with new furniture
Dates Available:Currently accepting applications.
$2,000 USD / month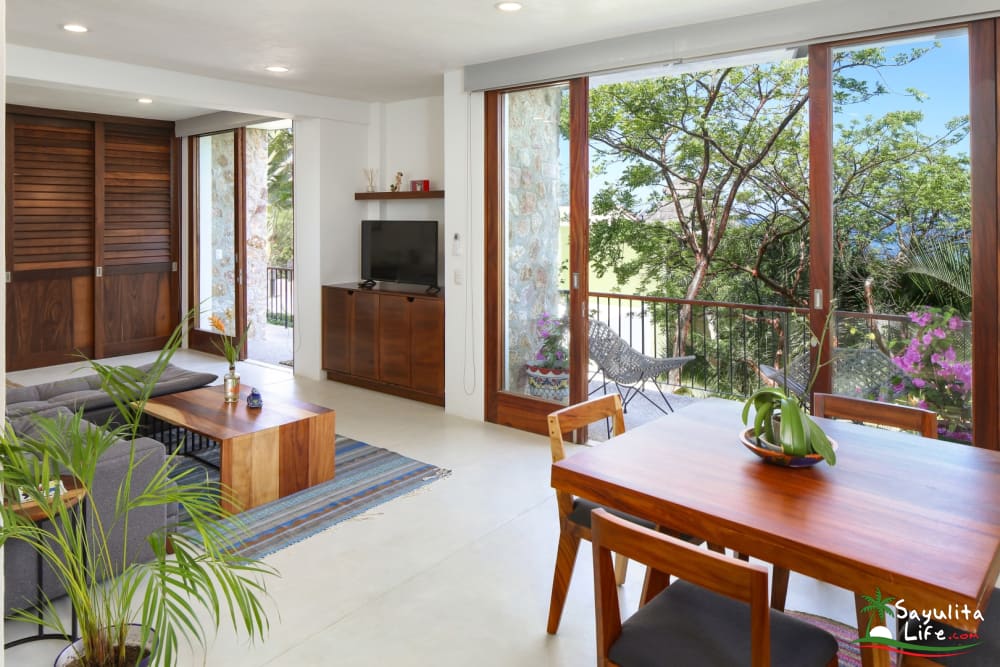 Casita Jorgito
Bedrooms:1
Bathrooms:1
Furnished: Yes
Parking: Private
Notes: Gorgeous ocean views, just steps from the beach.
Dates Available: Available until December - $2,000 per month
View
Available Now: 3, 6, 12 month options
Casa de Ensueno Suite
Bedrooms:1
Bathrooms:1
Furnished:Yes
Parking:Street
Notes: Newly upgraded WiFi; work while living in paradise
Pricing:Please contact for pricing.
View
Available Now
Casita Palmazul
Bedrooms:2
Bathrooms:2
Furnished:Yes
Parking:Yes
Pool:Yes
Notes: The perfect place for 2 couples or a family
Pricing:Please contact for pricing.
View
Available now
Bougainvillea at Sayulita Suites
Bedrooms:1
Bathrooms:2
Furnished:Yes
Parking: Private
Notes: Private and across street from the beach
Dates Available:Super discounts for the perfect tenants.
View
Available now
Las Flores at Sayulita Suites
Bedrooms:1
Bathrooms:2
Furnished:Yes
Parking: Private
Notes: Private and across street from the beach
Dates Available:Super discounts for the perfect tenants.
View
$3200/month
Los Arboles at Cineteca
Bedrooms:4
Bathrooms:4
Furnished:Yes
Parking: Private
Notes: 1 month minimum rental. Beautiful adults only estate.
Dates Available:Available!
View
Sours: https://www.sayulitalife.com/longterm-rentals
Monthly & Long Term Rentals in Sayulita
Whether you're a snowbird heading south for the winter or looking for a monthly vacation rental to get away with the family this summer, we've got multiple long-term rentals in Sayulita that are perfect for an extended stay.
Book with Beach Please Mexico
Booking a monthly rental directly through the owner gets you the best possible price because you avoid high commission rates that Airbnb or Booking.com normally charge. By cutting out these third-party booking platforms, we pass the savings on to our guests, especially for long-term rentals. You also get to communicate directly with us without any middle-man, and we offer an even better cancellation policy than the other companies!
Featured Long Term Rentals in Sayulita, Nayarit
Monthly rentals in Sayulita, Nayarit receive 10% off when their stay is over 28 days. This is an appealing alternative to traditional apartment rental since it provides far more flexibility than a sublet or other rental agreements. Get the best rates for Sayulita monthly rentals and avoid paying high 3rd-Party fees (Airbnb, VRBO, Booking.com) by booking directly through Beach Please Mexico.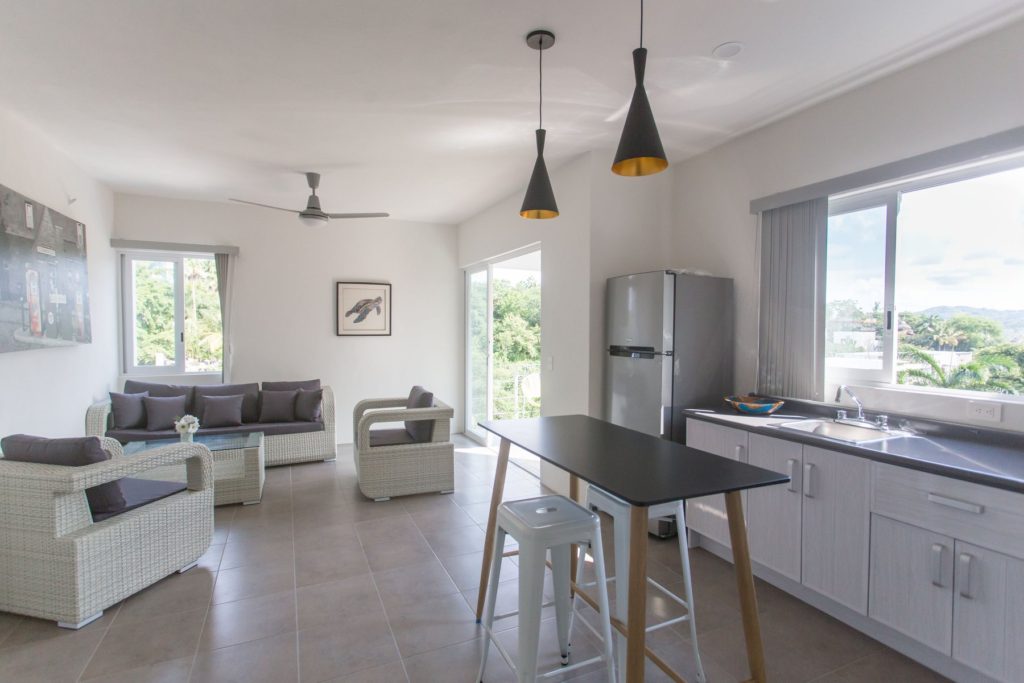 Condos del Sol
Prices from $1500 USD Monthly
Blocks from the beach & city center
Built specifically for long-term living
24/7 Gated Security
2 Bedroom Condos
4-6 Guests
Full kitchen, community pool, & grill
Contact Us for Availability
Long Term Rental Savings Calculator
See exactly how much extra you are paying in commission each time you book on Airbnb or Booking.com. Did you know Airbnb charges guests a 14.2% booking fee? We do have all our properties listed on Airbnb & Booking.com, but you can book directly through our online reservation system and avoid paying these high fees.
Reasons to Book Long Term Rentals in Sayulita, Nayarit
If you're in the market for a snowbird retreat, let us host your next winter season in Sayulita. Each winter, thousands of visitors spend a month or more in Sayulita. The Snowbird Advisor even said Mexico's Banderas Bay is becoming the new Florida for Canadian snowbirds! Below are the 3 main reasons we recommend booking a long-term or monthly rental in Sayulita.
Live Like a Local
It's that travel advice you hear all the time: do as the locals do. It's fantastic advice, but if you're in an unfamiliar city it's a lot easier said than done. Thankfully, it's entirely possible to experience Sayulita just like the locals.
While learning a few phrases in Spanish and studying the local customs is important, it's also about ditching the travel guides to find the hidden gems and best-kept local secrets. For that reason, we've spent the past few years putting together some great advice and tips for our guests. For example, you can check out some of our favorite restaurants in Sayulita or maybe go on a hike that's off-the-beaten-path on the north shore. Check out our other posts with more local knowledge for your stay in Sayulita, Nayarit.
One of Mexico's Most Popular Travel Destinations
Stunning landscapes, sweeping sunsets, miles of golden beaches, picturesque villages, and a wide range of residential beach rentals are among the many attributes that have enabled the Riviera Nayarit to position itself as one of the leading tourism markets in Mexico and as one of the best destinations for sun & sand in the world.
I'm guessing you knew this already, or maybe you visited the Riviera Nayarit before and enjoyed it so much you are looking to stay longer this next time. Monthly rentals in Sayulita and the surrounding areas are becoming more and more popular, especially among:
Remote Workers
People interested in buying a property in the area
Snowbirds
Mexican residents looking to escape the bigger cities
As a result, the demand for long-term rentals of condos, apartments, and houses in Sayulita has been increasing every year. For this reason, we recommend booking a few months in advance to make sure we can find the perfect place for you.
Thoughtfully Furnished and Fully-Equipped
All our properties (houses, condos, and apartments) are thoughtfully furnished and fully-equipped for long-term rentals in Sayulita, Nayarit. You can e-sign your rental agreement in a few seconds, pay online, and speak directly to the owner through our booking platform.
Another reason why monthly rentals in Sayulita, Nayarit are great is that the price is all-inclusive. The long-term rental agreement includes all service fees, utilities, and bills. You will never be stuck paying extra at the end of the month for air conditioning usage, the internet, or parking fees.
Book Direct with Beach Please
Reviews & Testimonials
We were so impressed with this place! We would stay again in a heartbeat. It is in the perfect location with walking distance to everything you could possibly want which was key for us having a toddler. We loved having the pool and used it probably three times a day. The beach is just a few blocks away and we loved being able to stop at the Maripaz (supermarket) on our way to grab snacks and drinks. You will not be disappointed if you stay here!!
★★★★★

Claire, USA, 2020
Nous avons passé 28 nuits dans cet appartement et tout a été parfait même si c'est petit. Le logement est très fonctionnel et près de tout ! La plage à 2-3 minutes de marche, d'excellents restaurants tout près, dépanneurs, mini marché et arrêt d'autobus à proximité. Nous y retournerions sans hésitation !!! Réponses rapides du locateur lorsqu'il y a quelque chose régler. Merci beaucoup Eric ! Nous avons adoré votre place et Sayulita et sa grande plage À bientôt, j'espère !
★★★★★

Annie, Canada, 2020
Eric & Haley have a terrific place in an ideal location. The beach was only 2 blocks away and all the best restaurants and shopping areas are within easy walking distance. The wide terrace that becomes an open and large common space when the huge sliding doors are retracted is a real treat. Even though the space is small, it is very clean, bright, practical, and nicely appointed. The washer and dryer came in handy. The beach towels and gear were also much appreciated (who wants to bring that stuff along?). The building is modern, clean, quiet, and full of friendly people (especially Pamela and Alex). We hope to come back for another visit someday. Highly recommended!
★★★★★

Robert & Josefa, Canada, 2020
It's a great place with all the amenities. Very close to the beach and a lot of restaurants. Perfect for a short or long stay. The balcony is nice and spacious and the kitchen has all the basics to make a proper meal. We thoroughly enjoyed our stay here, go for it.
★★★★★

Nivedhitha, USA, 2020
See More of Our 100+ 5-Star Reviews!
What is included in the monthly rental price?
When booking with Beach Please, most of the time the rent is all-inclusive. This means electricity and internet are included in the rent. On some occasions, drinking water is also included! However, this is usually up to the owner's discretion, and if you run air conditioners very high your usage will head into the "red zone"and the prices skyrocket. You may need to pay the overage fee. Electricity is very cheap in Mexico, but it can really add up during the summer months.
Is a deposit required?
When booking any monthly rental, a deposit is required. This is refunded when you leave and the property is left the same as it was when you arrived.
Are the properties pet-friendly?
We love pets, and most owners do too! Some property owners will charge a pet deposit, and some properties have restrictions like only 1 pet, under a certain weight, and always leashed when on the property. It's a good idea to ask before booking.
Is Sayulita safe?
Sayulita is very safe. By taking responsibility for yourself, your family and possessions and employing common sense, your stay in Sayulita will be a fun, enjoyable and memorable experience.
How early should I book a long term rental?
Earlier the better! Properties in Bucerias can book up well over a year in advance for long term rentals. The early snowbird gets the worm!
Contact Us
Do you need help finding the best monthly or long-term rental in Sayulita?
Beach Please Mexico is a small family-run business and we want to keep it that way. We know all our listings first hand which means we can personally answer any questions you may have quickly & accurately. We also take all the property photos, so what we see is exactly what you'll get.
Sours: https://beachpleasemexico.com/monthly-long-term-rentals/sayulita/
Stop looking online
Chris here! It's not often I make a post, but today I have something very special to share with you. Have you ever been frustrated with the steep costs involved in renting a house or apartment in paradise? Well, today you're in luck. In this post I'm going to teach you how I found us an apartment in Sayulita, Mexico right in the middle of high season for less than $600CAD per month with only 5 hours of "work."
If you've been looking tirelessly online only to be swamped with expensive vacation rentals, it's time to give up. You're not going to find anything that is priced reasonably there. If they're listing it online, they're targeting the vacation market. They're looking for the deep wallets of people who want a place waiting and ready for them when they arrive.
Yup, book one night at a time. That might sound scary, but I think paying $200/night for a month (or more) is even scarier! You can usually find a nice hostel for $10-20/night depending on where you're going. Dump your stuff in your room (preferably inside a locker) and hit the streets.
I don't speak much Spanish but that didn't prevent me from finding our killer little apartment for 7000 pesos per month (~$600CAD) from a guy who speaks no English. All I did was walk around on the streets and ask EVERYONE if they had an apartment for rent.
So you're going around and asking people if they have a place for rent. There's a few important things to make sure you ask and say:
Greet them in their native language and politely ask if they speak your native language to make things easier.
Tell them a bit about yourself. I simply introduced myself and told them that my girlfriend and I were planning to stay around for three months.
Ask them if they have a place to rent. (Obvious, I know :P)
If they don't have a place available, it's super important to ask for referrals! Again, word of mouth travels around these small towns like wild fire and just because they don't have a place to rent doesn't mean that they don't know someone who does. If you don't ask, they might not be prompted to offer this valuable information.
Each town is different so it's also important to ask the locals how they would find a place to rent if they were in your situation. Many people gave some very good advice after asking that question.
After a few hours talking to everyone, I started to pick up on who was valuable to ask and who wasn't. These guys are great to ask:
Hotel staff. Believe it or not, but many of them actually seemed to either own other rental properties or know someone who does. As an added bonus, they probably speak some English. Every receptionist in each hotel I walked into gave some promising leads.
I had trouble with this one because I couldn't find one that spoke enough English to converse properly (I didn't know how to ask if they know anyone who has an apartment for rent in Spanish). However, since word of mouth is how the locals seem to find people to rent their places I'm pretty sure hairdressers would be great to ask since they talk to a lot of people each day.
Those with places to rent. The locals are usually really nice people and are always wanting to help you and each other. Believe it or not, but I actually found our place after talking with a guy who had a place for rent but it wasn't available. He gave me his neighbour's number who was looking for someone to rent his apartment.
People hanging fliers. They're usually local and fairly involved in the community, meaning they know who might have places to rent.
Old people. They don't use the internet as easily as most so they can't target vacationers. They also talk a lot to each other (gold mine for referrals) and are more likely to have investment properties to rent out.
Also, don't forget to look for "for rent" papers taped to telephone poles, billboards, etc.
Here's who you should avoid:
Cleaners/labourers/street vendors. These people might know someone who has a place to rent, but my time was better spent asking people who aren't barely scraping by.
Realty companies. I couldn't believe this, but these people didn't seem to know a thing about anything but vacation rental properties. Their prices were either crazy high or they were only interested in selling mansions. None of them had anything available within our price range and none of them gave us good leads.
If you don't have experience as a door to door salesman like I do, this whole process might be a bit overwhelming at first. You're going to have to deal with an endless stream of no-no-no-no before you get that YES! But, remember that one yes is all you need to save a shit-tonne of money. It might take you hours or days, but if you give up early you'll never live in paradise for cheaper than you were back at home 🙂
---
Here's the place we found!
We have a cute little balcony where we can hang out.
Finally have a real kitchen!
Our closet doors are actually really pretty.
We made ourselves at home very fast 🙂
Lots of room to dry clothes on the rooftop
We even have a place to hang our hammocks!
Related
Sours: https://farmboyandcitygirl.com/destinations/north-america/mexico/sayulita/how-to-find-an-apartment-in-sayulita-mexico/
Where to Stay in Sayulita, Mexico
Choose the perfect vacation rental
Save up to 51%
Best Vacation Home Deals in Sayulita
Recommended Vacation Rentals in Sayulita
Find your perfect vacation rental in Sayulita: from $28 per night
Vacation rentals with Wi-Fi
Apartments and vacation rentals with a kitchen
Vacation rentals and apartments with air conditioning
Popular Rental Amenities in Sayulita
Using our filters will help you find the ideal accommodation in Sayulita. Many accommodations in Sayulita offer "internet" or "balconies/patios," which makes it a wonderful vacation destination if you need internet access during your vacation or you want a rental with a balcony or a patio. Plan your vacation in advance if you want a rental with a fireplace or you enjoy soaking in the hot tub. There are just 10 listed accommodations with "fireplaces" and 46 properties providing "Jacuzzis."
The Weather in Sayulita
Check out the climate diagram for Sayulita. During July, maximum temperatures go up to more than 89° On the contrary, the coolest month is January. The rainiest month is August while the driest month is April.
7-Day Weather Forecast in Sayulita
Sun, 24 Oct
Mon, 25 Oct
Tue, 26 Oct
Wed, 27 Oct
Sours: https://www.hometogo.com/sayulita/
For sayulita mexico rent apartments
Finding An Apartment in Sayulita
Choosing to move to Sayulita was a spur of the moment decision. Dave and I were looking to head to Mexico in September and were overwhelmed by the recommendations we were receiving from friends: Puerto Vallarta! Acapulco! Mexico City! Oaxaca! Playa Del Carmen! Tulum! Cozumel! We didn't know which to chose, and we kind of wanted to choose them all. Our solution was to head to Skyscanner and find out where in Mexico would be cheap to fly to from Austin, Texas. For just $100, we found ourselves booked on a flight to Puerto Vallarta! So, uh, where is Puerto Vallarta? I knew nothing about it.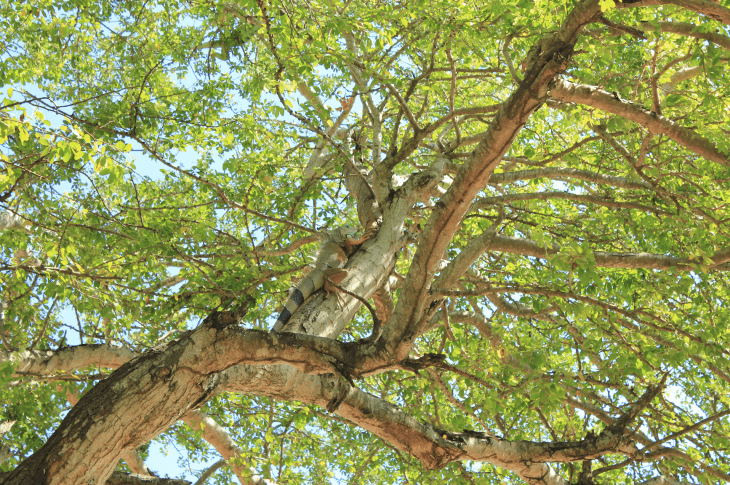 With flights booked, we spent the next few weeks slowly eliminating cities and towns in the region — Puerto Vallarta for being full of resorts, San Pancho for being too quiet — before finally settling on Sayulita. Sayulita, a hippie beach town full of surfers and partiers and retired expats.
We began to search online for monthly rentals in Sayulita. Then came the real research.
You see, there isn't really a lot of information on Sayulita online. There's a few outdated blog posts speaking of $500 a month apartments… except now these posts are filled with comments from desperate travellers wanting to know how on earth they can find said apartments as nothing seems to be under $1000 a month.
There's the website Sayulita Life, which lists quite a few apartments online. The majority of them were way out of our budget ($150 a night for a small 1 bedroom place?), and the rest unavailable for three months straight.
Airbnb was even more depressing, with prices showing as being higher than anywhere I stayed during my three months in the US. $2000 a month for a small apartment? No thanks. A friend of ours had a friend of a friend who had apartments he was renting out in the region. We emailed to ask how much they were and were told it would be $1500 a month. This wasn't sounding particularly promising.
Our next step was to speak to friends who had lived in Mexico recently, and we were slightly relieved when they told us not to panic, not to book anything in advance and to just turn up and ask around.
Agreeing with Dave to stop researching and stop worrying, I still found myself anxiously browsing overpriced apartments in Sayulita and getting more and more frustrated. I even researched back-up plans and came up with a list of towns on the Pacific coast that would be cheaper. I was convinced we wouldn't be able to find something.
And then we flew to Puerto Vallarta.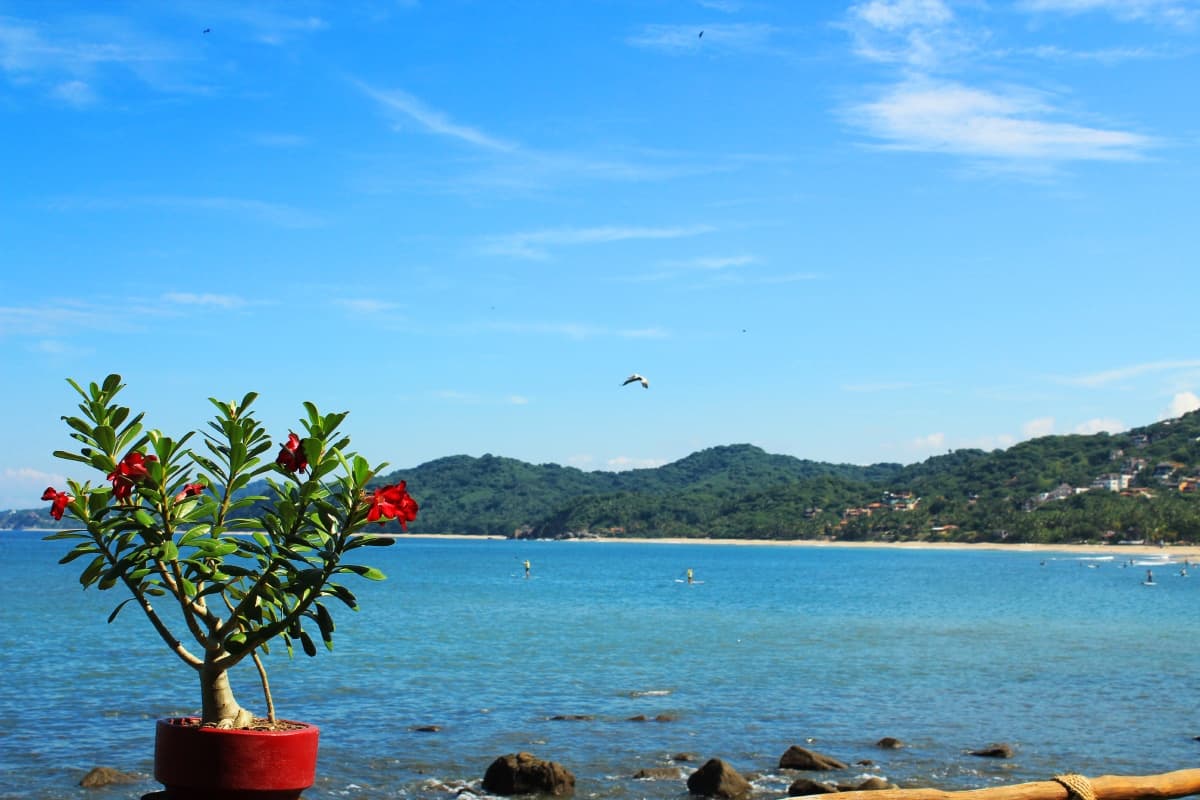 We had two nights booked in a Puerto Vallarta hostel that we intended to use as our base as we searched the region for apartments. Our vague plan was to speak to anyone and everyone at the hostel in the hope that they would know somebody who was renting out an apartment in Sayulita.
No luck.
And so we crossed our fingers and I tried not to vomit as we took a bumpy bus over a winding road to Sayulita.
It was 32 degrees and more humid than we were used to, and we had no idea where to even start looking. We trudged down the sandy path and spoke to the staff at the first hostel we came across:
"You want to rent an apartment? … For a few months?! I… don't know of anybody doing that. Sayulita is very expensive though. It is so expensive here."
"How expensive is very expensive?" I gulped.
"Oh… I don't know. I just know it is now so expensive here."
We left the hostel and picked a dirt track to wander down. Half the houses had gaping holes in concrete blocks for windows and roosters roamed the "street". There was nothing for rent that we could see, it was time to go back to the main street.
Sayulita is a rather small town. Population estimates online put the figure at somewhere between 1000 and 4000 residents, and it's growing every year. While I personally love small towns, especially when they're by the beach, this was seriously limiting our accommodation options.
As we walked past Se Renta notices on empty houses with just a phone number listed things started to feel a little hopeless. While there was a time, around ten years ago, that I was somewhat fluent in Spanish, I hadn't spoken it since then and could now only just get by ordering in a restaurant. Dave's Spanish vocabulary was limited to around ten words. We'd be hopeless negotiating seeing an apartment and bargaining a price in Spanish — yes, calling around would be our last resort.
We just didn't know what we were doing.
We wandered aimlessly down the street in desperation, unsure what to do. We happened to stop and look at the window of a real estate agent's, scanning the listings to see if anything was for rent.
"Can I help you?'
"Yes! Um, we're looking to rent an apartment for two or three months?"
To our disbelief, Eduardo, the guy working there knew of one place for rent, and took us there to see it.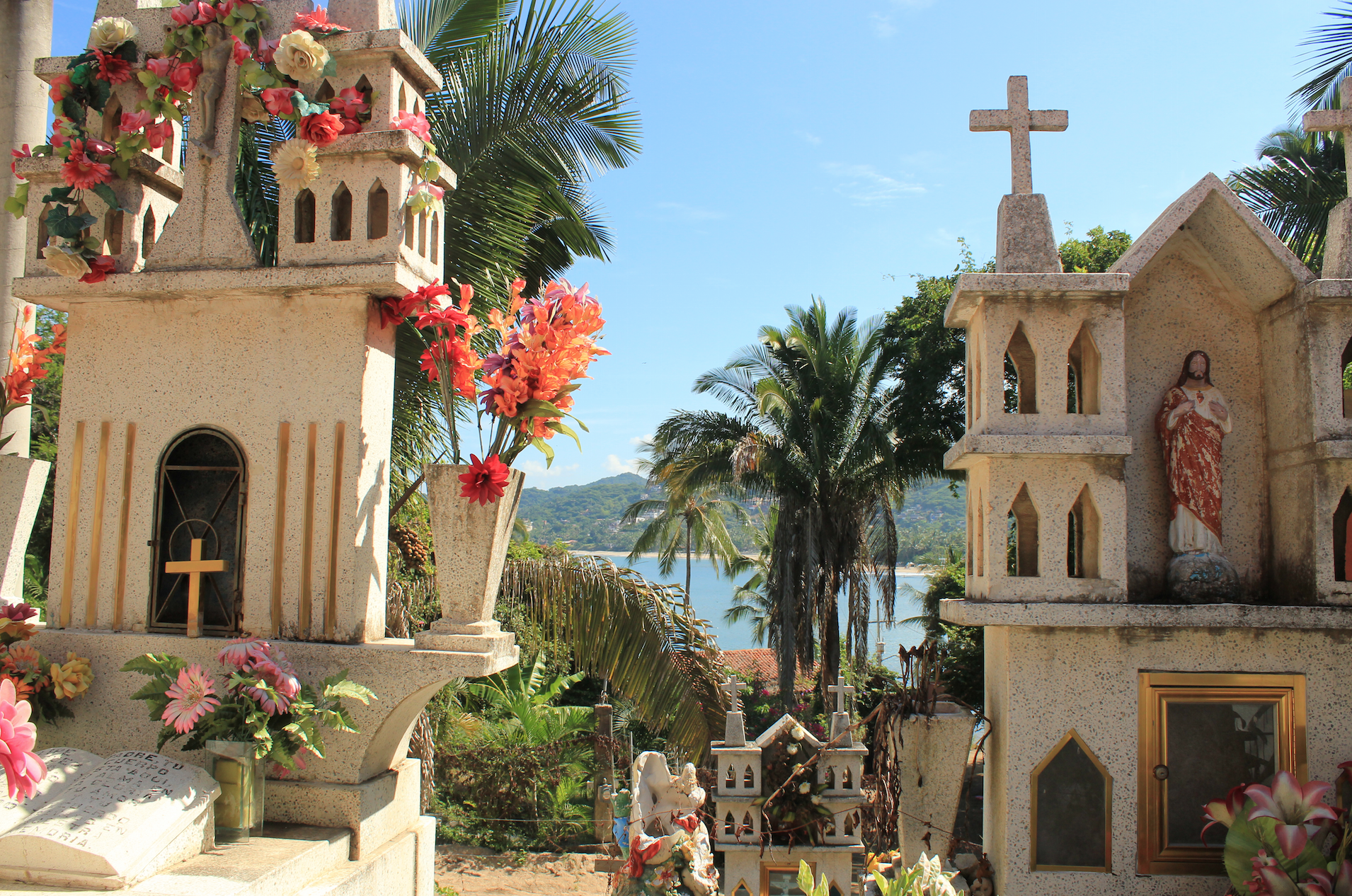 The apartment was small, though. However, it was also very cheap. For $300 a month, I could barely control my excitement at finally discovering somewhere affordable!
WE SHOULD TAKE IT RIGHT NOW!
But we'd brought with us a checklist — a must-have list and a would-be-nice-to-have list. On our must-have list was air conditioning, a kitchen and a work space. Of these it had just one — air conditioning. I knew that spending three months working on a bed in a tiny room would be unpleasant, and I really wanted a kitchen.
I just didn't know if we'd find anything this cheap… and I liked Sayulita! I really wanted to live here.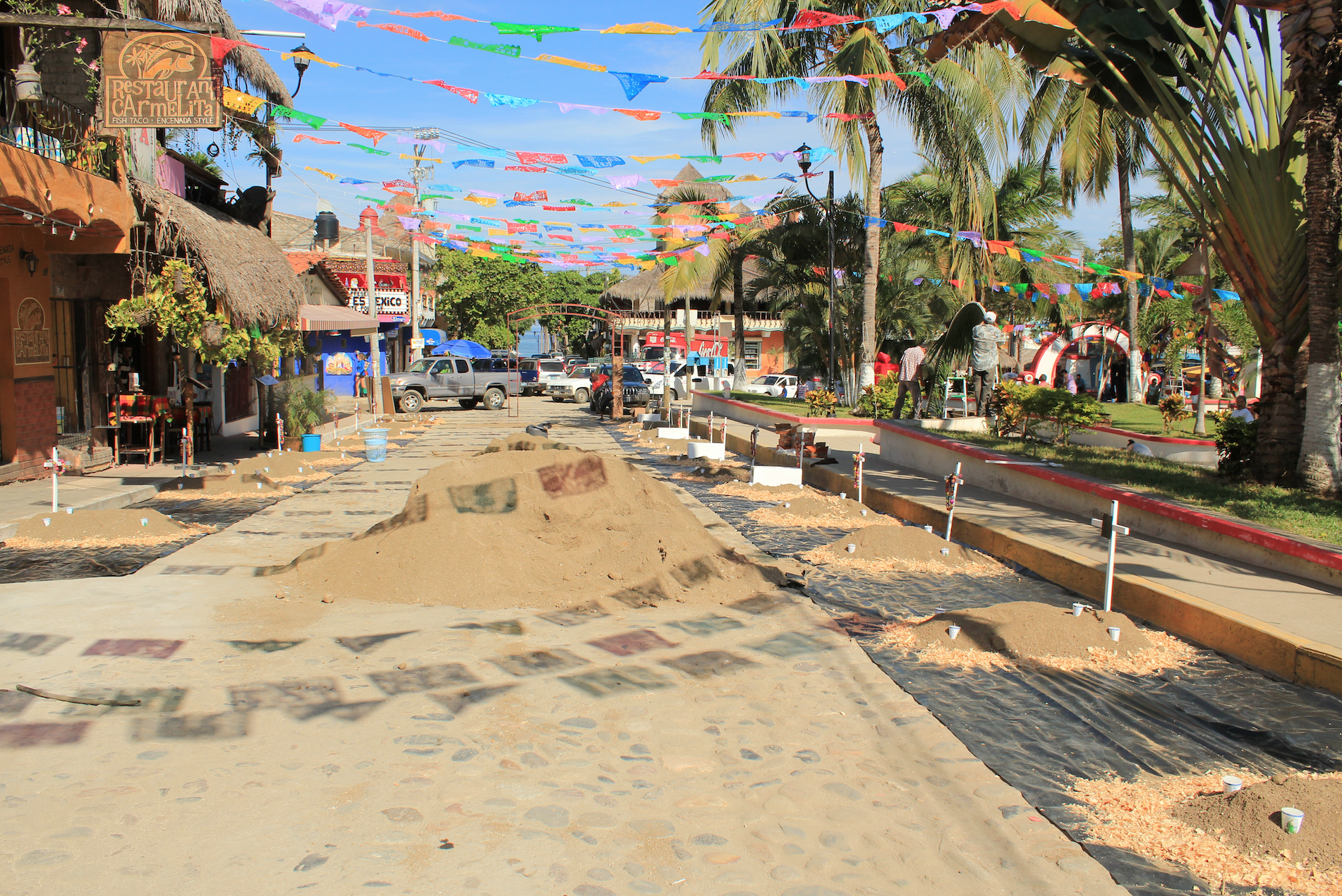 And so we spoke to the landlady and told her that we'd have to think about it. We just weren't sure because we wanted a kitchen and a work space and… she responded by taking us onto another floor that held the perfect apartment!
It had every single item on both our must-have and would-be-nice-to-have lists. It had everything and it was perfect. I exchanged excited glances with Dave and knew he was just as happy as I was. This was it.
We had found our apartment.
With approximately two minutes of half-hearted bargaining we had settled on a monthly rate of 8500 pesos.
That's $650 to have absolutely everything we wanted in an apartment.
Two days later we moved in. Here's a quick video tour:
We have a spacious living area with lots of places to work from.
We have an incredible kitchen that has inspired me to learn to cook for the first time ever.
We have a huge bathroom with a wonderful hot water shower.
We have a ridiculously enormous balcony that fits eight people at tables and still has room for me to pretend to do yoga.
We have a swimming pool!
We have drinking water delivered to our apartment every week from the singing water truck so we don't have to carry huge 20 litre bottles of water up the hill with us.
We can get our laundry done for just 50 pesos, giving it to the landlady and having her return it to us the next day.
We have a weekly cleaner that we pay just 100 pesos for. She does crazy things with our towels.
We have air conditioning in both the living room and the bedroom, fans on the ceiling of our balcony, and all bills are included in the rent.
And we live just a five minute walk from this: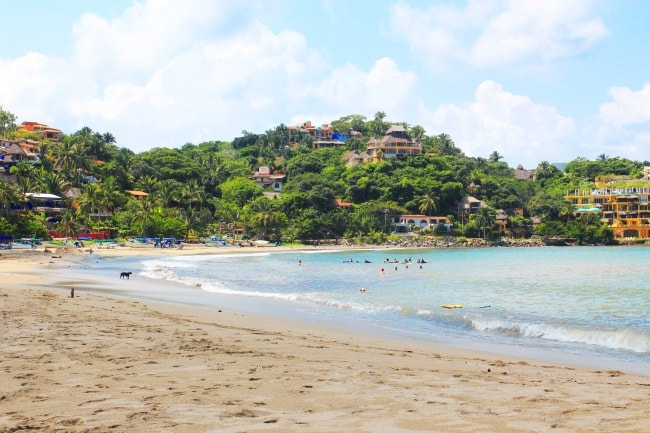 I can't believe the amazing value we're getting!
However, despite being able to get an apartment within an hour of arriving, we were still extremely fortunate.
Our friends, Steph and Mike, arrived just two weeks after us (we arrived mid-September) and were told by nearly everybody they approached that they had arrived too late, that all of the apartments in Sayulita had gone. Steph wrote about their apartment hunting woes and it doesn't sound pretty.
Much like in Chiang Mai, travel bloggers seem to gravitate towards the same places. Steph and Michael arrived two weeks after we did, Matthew arrived a week later. Matt and his girlfriend Emilie arrived two weeks after that. The past six weeks have been filled with blogger dinners, beers on the beach at sunset, releasing baby sea turtles into the ocean and eating so. many. tacos.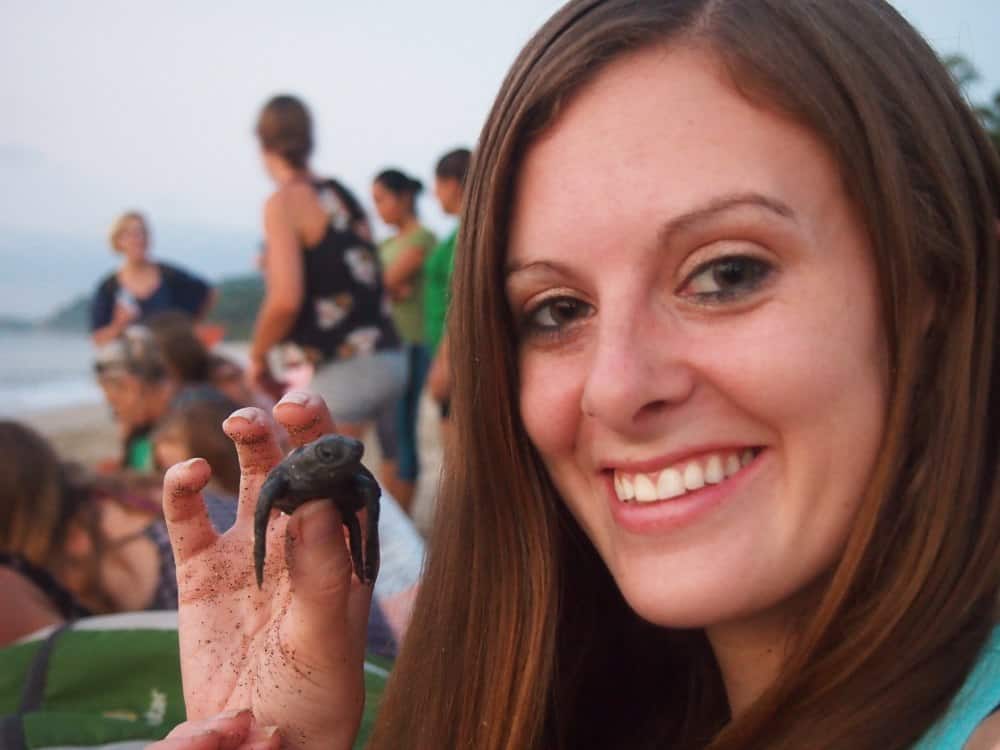 The food here is incredible. We have the Chicken Lady who charges $8 for an entire barbequed chicken, 10 tortillas, a bag of rice, coleslaw and hot sauce that lasts us all day. We eat $1 mahi-mahi tacos and $2 marlin quesadillas for lunch. Beers are 60 cents from the convenience store and I'm making my own margaritas.
There's plenty to do here, but not so much that it's distracting from our main reason for coming here — to get work done and replenish our bank accounts after a pricey three months in the US. There's surfing and paddleboarding, though I'm frightened of both after Dave got stung by a jellyfish, and there's the adorable town of San Pancho that makes for a relaxing day trip. A couple of weeks ago, there were baby sea turtle releases that took place every evening at sunset and, most recently, there have been the Day of the Dead celebrations.
Let's just say that it's going to be incredibly hard to leave Sayulita…
If you're struggling to find an apartment in Sayulita, this is where we stayed: Villas Vista Sayulita. Best of luck in your search!
Sours: https://www.neverendingfootsteps.com/finding-apartment-sayulita/
2 Studio Apartments in Mexico around $200 USA a Month - Moving to Mexico
Furnished Apartments in Sayulita
What is a Furnished Apartment?
Co-living, also known as co-housing, house-sharing, or room-sharing, is a growing trend in big cities across the country. Co-living is when a group of people—often strangers—come together to share common living spaces, save money, and enjoy a more affordable lifestyle. Apartment buildings dedicated to co-living situations will offer 2 or 3 bedroom units with common areas including a living room, kitchen and dining area. Bedrooms and bathrooms may be private or shared. Co-living differs from a typical shared rental (roommate) situation in that co-living spaces are frequently furnished, don't require long leases, and almost always include WiFi and utilities. They can also include housekeeping services and some even offer catered functions for tenants, housemates, and their guests. Co-living property managers handle billing and repairs of the building, generally through an app. The typical demographic enjoying a co-living lifestyle are millennials and young professionals in large cities and tech hubs such as San Francisco or Austin, but they are also starting to pop up in cities around the world. People of all ages who find themselves in need of affordable housing are increasingly looking to co-living as a viable option.
Browse Furnished Apartments
Sours: https://www.anyplace.com
Now discussing:
If you want to. She blinked mischievously; her fingers trembled with a thermostat around my piston. In my brain, a flash of lightning flashed through the memory of how she then said .I will continue, if you dont change your mind.
456
457
458
459
460