Please share:
Last Updated on July 16, 2020
A Low Cost Sectional
We had been looking for a new sectional for quite a while that would fit in our main living space (shared with our dining room and kitchen) that would give us plenty of seating without overwhelming the minimal space we had available. Since I'm not one to shy away from assembling furniture (Ikea and I are close friends), Home Reserve came up as a great place where to look. After plenty of research and looking through the available styles and fabrics, we were sold. We knew this was the right choice for our home. So we decided to do a Home Reserve Review!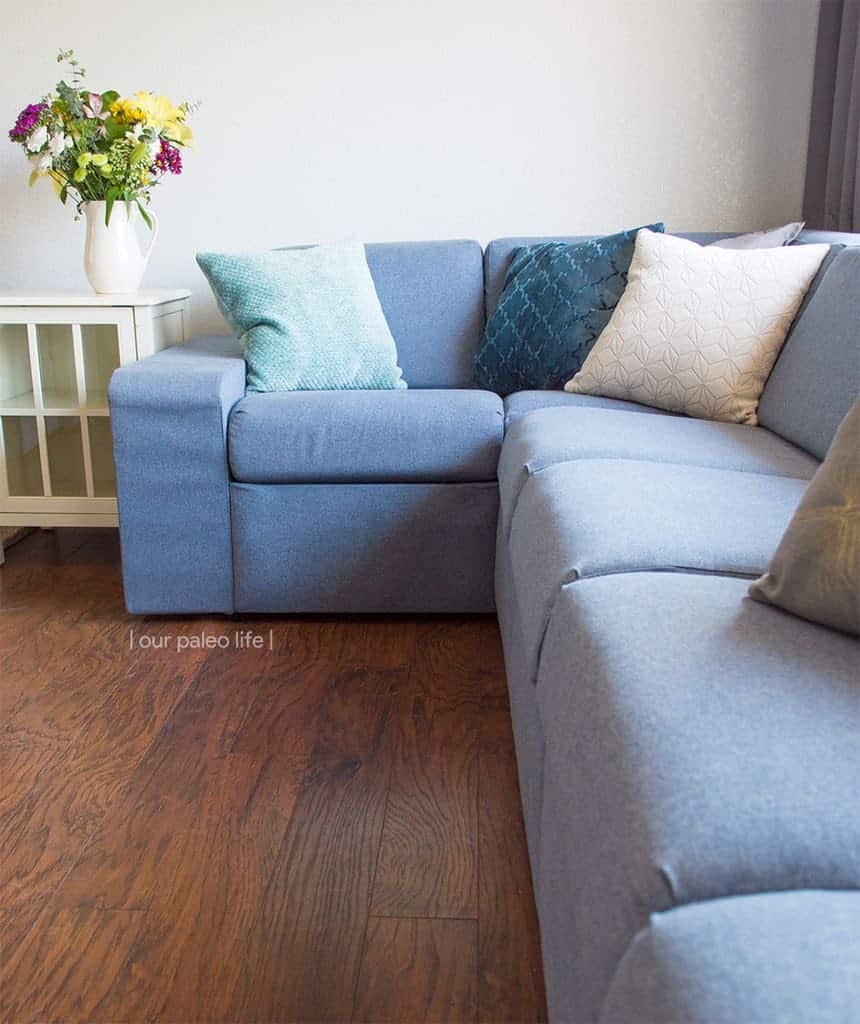 Before I get in to the details on just what it takes to get one of these sectionals/sofas, I want to tell you some of the features that got us excited. Also, as a disclaimer, I'm not being compensated for this post, I just really like my new sofa and wanted to share.
Our previous sofa/loveseat combo was dark leather that had big puffy arms and cushions. Very comfy, but also pretty cumbersome in our small space, and the dark color really made the room look darker than I wanted it, so we decided tpo look for new options. Also, there was only seating for 5, which is the exact number of people in our family. If we had guests over, people were sitting on ottomans, dining room chairs, or an extra chair we had moved into the room. Not so nice.
Simple Design
We decided to go with the Ray style from Home Reserve, which they describe as having a "modern, low-profile nice arm". I love the clean, sharp lines of the cushions and the "low-profile" descriptor intrigued me because I wanted something that would give the appearance and feel of more space in our room. I was kind of over the curved, puffy cushions of our old couch, and the Ray style was exactly what we were looking for.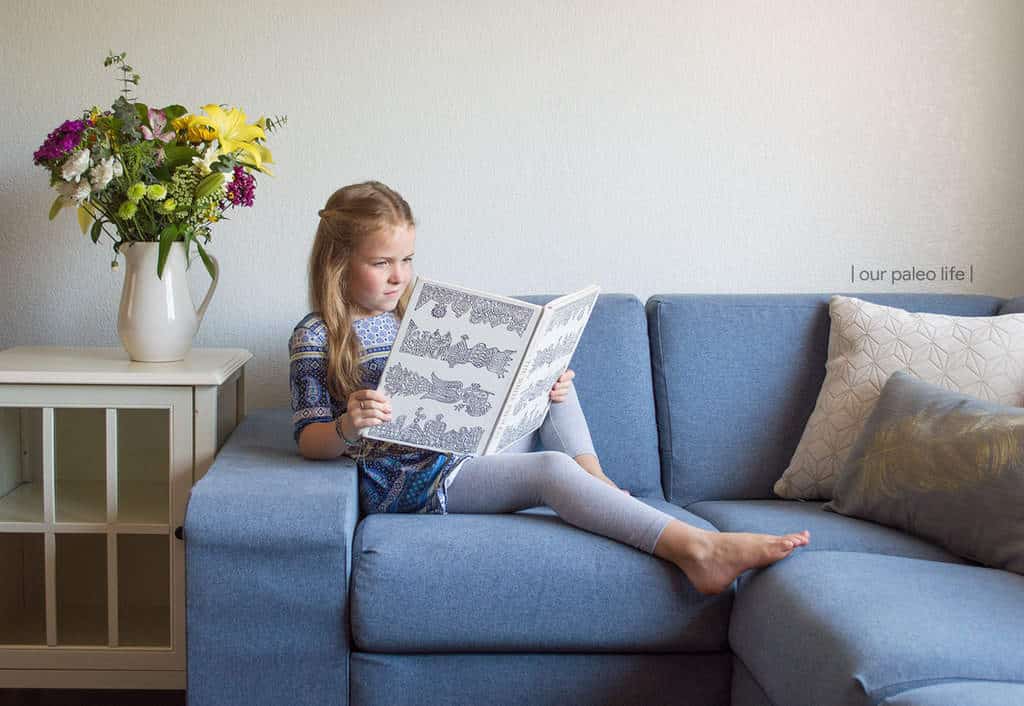 Built-in Storage
When we looked further into the features, we found that every. single. seat (including the ottomans) has built-in storage. That is huge for us because our home has minimal closet and storage space. Having room to store my candles, our family board games, the kids' DVD & book collections, plus other odds and ends that never seem to find a permanent home is worth it's weight in gold.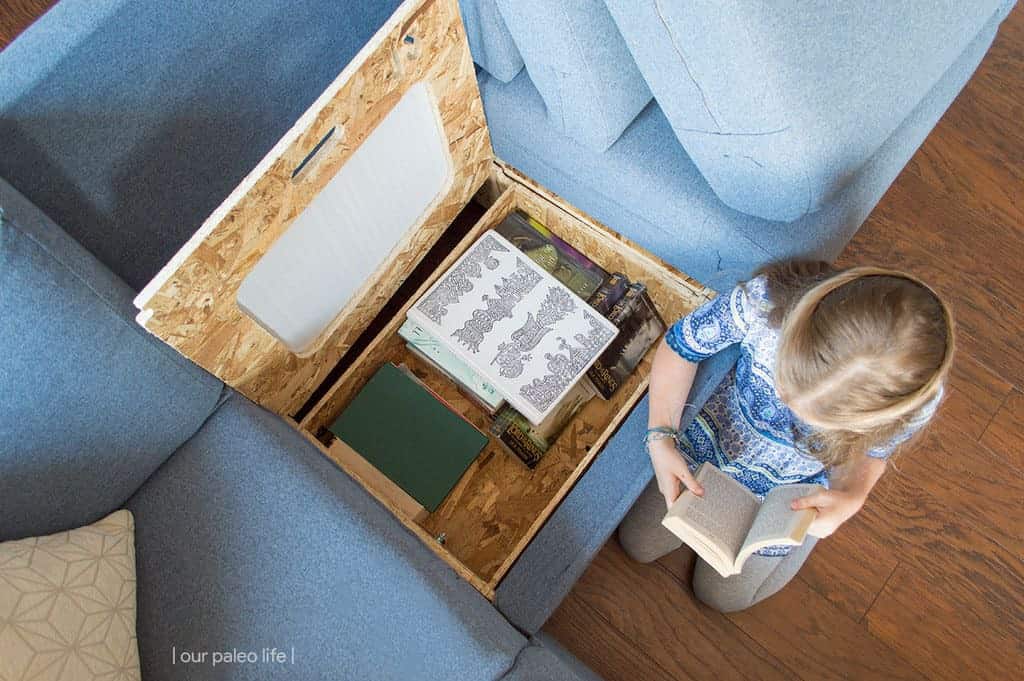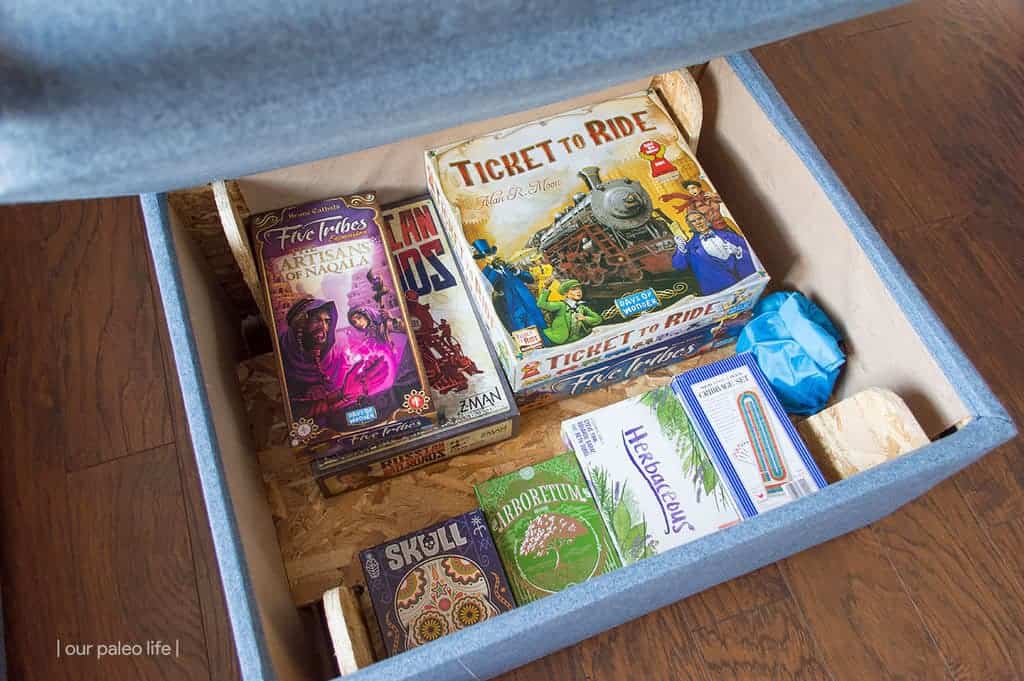 Pet Ready Furniture
But the next feature got me all kinds of excited. They offer a line of "pet care" fabrics. While we do have a dog and cat, I also consider our 3 kids to be family "pets" as well, so fabric that is protected from spills, mud, snot, pet stuff, etc that can be removed and washed?! Yeah, that's a big deal. The only limitation to the pet care fabrics is that they didn't have the exact color/pattern we liked in that line, so we did have to settle for our next favorite, but it still works so well in our space and I actually love it more than our original choice now that it's in our house.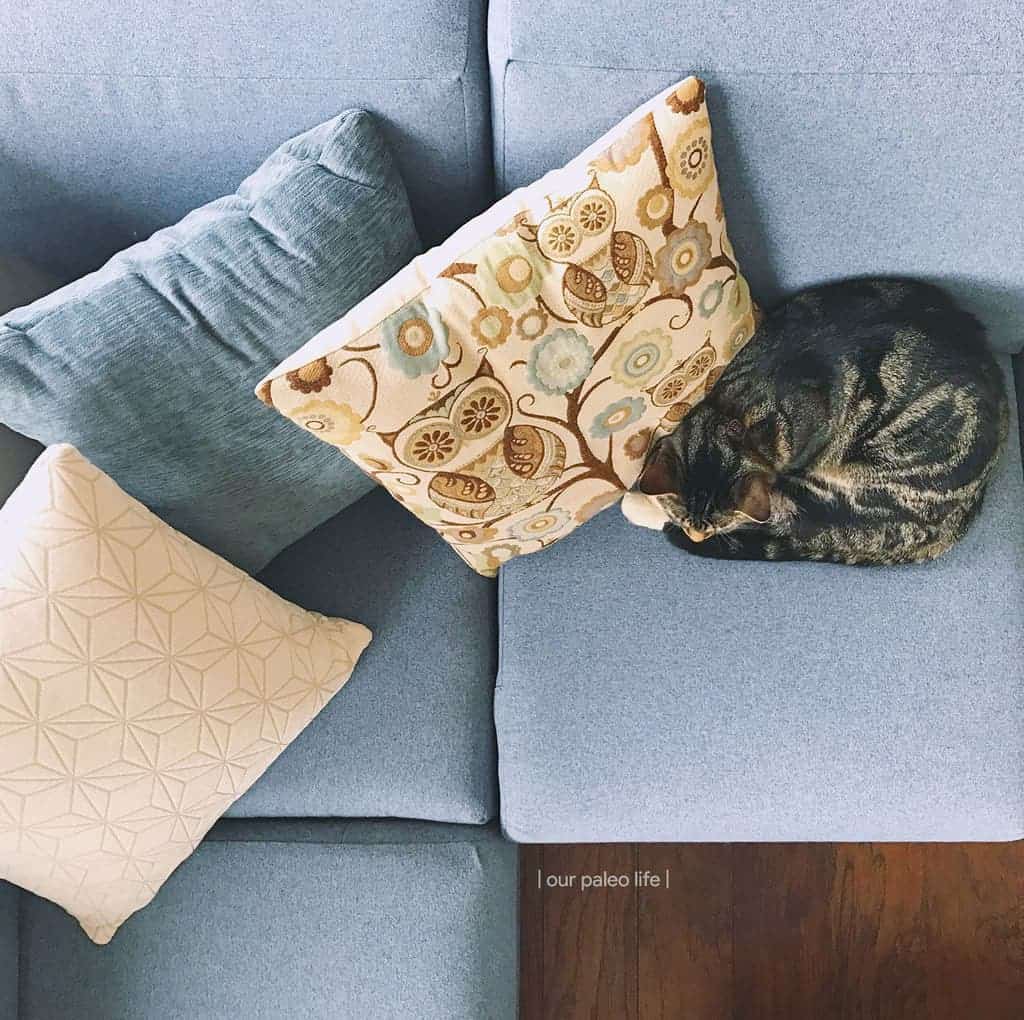 I'll admit I was a bit skeptical about the 10-year warranty on the frame when everything was delivered in flat-pack boxes, ready to be assembled. But once it was all together and set up in the living room, with kids more than willing to "test" it out, it's definitely a sturdy piece of furniture, so I can see why Home Reserve can offer the 10-year warranty on it.
Once we got it assembled and put together, we realized we would have liked one more armless piece to fill out the end section a little bit more. Guess what? No problem at all. We just went back to the website and ordered the one extra piece. If we ever want to change or reconfigure the layout, each piece can be unattached from it's neighbor and rearranged as we see fit. It's 100% customizable to your exact needs.
And maybe one day I will want to go back to the curvy look, who knows. If that day comes, I can order new back cushions and a new arm for the end chair in the curvy styles and change the entire look of the sectional. It really is an ingenious way of creating your own custom and unique look for your own life.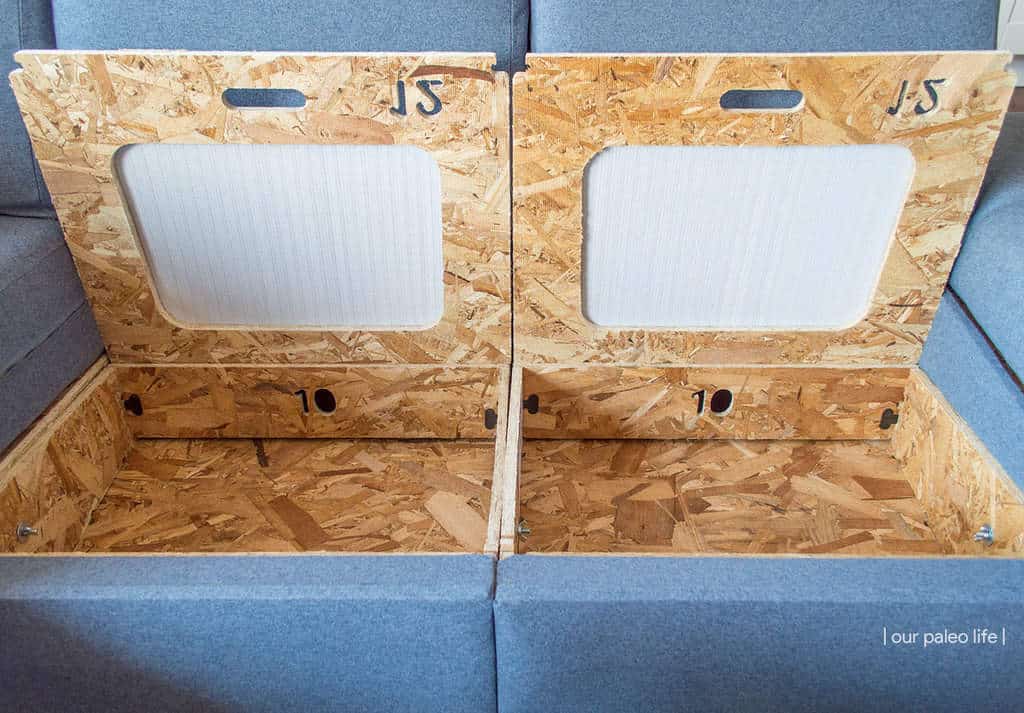 We can also replace any piece at any time for any reason. So if the kids decide it's a good idea to do arts and crafts on the sofa and accidentally cut open a cushion cover with a pair of scissors, I can just reorder a new cushion cover rather than having to replace the whole section or cushion.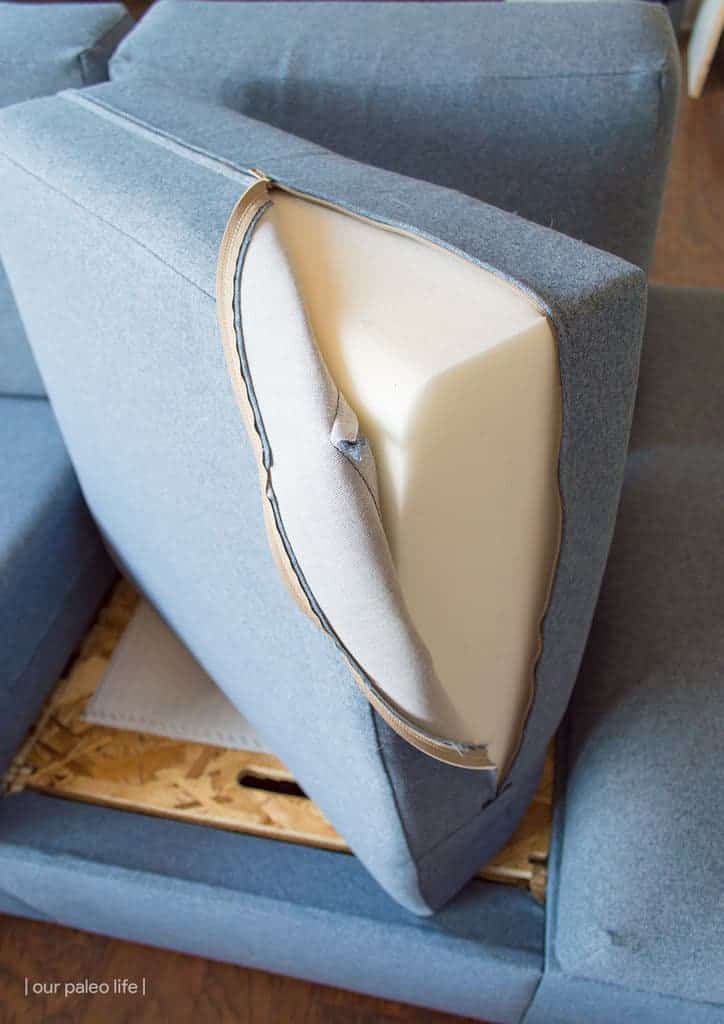 So, that's all the good stuff, but there's got to be some downsides, right? Well, I guess that depends on your personality. I am in the weird crowd, in that I actually enjoy assembling flat-pack furniture. It's like a giant puzzle and the satisfaction of standing back and looking at my "creation" is all the thanks I need. So if you don't like to assemble furniture, but this still seems like a great idea to you, find someone willing to do it for you because it's really worth it in my opinion.
The only other downside I've noticed so far is that the fabric we chose (Pet Care in Maltese Denim) attracts our pets' fur, so we have to be a little diligent in pulling that off at least once a week. It's worse in the warmer months, but that's to be expected.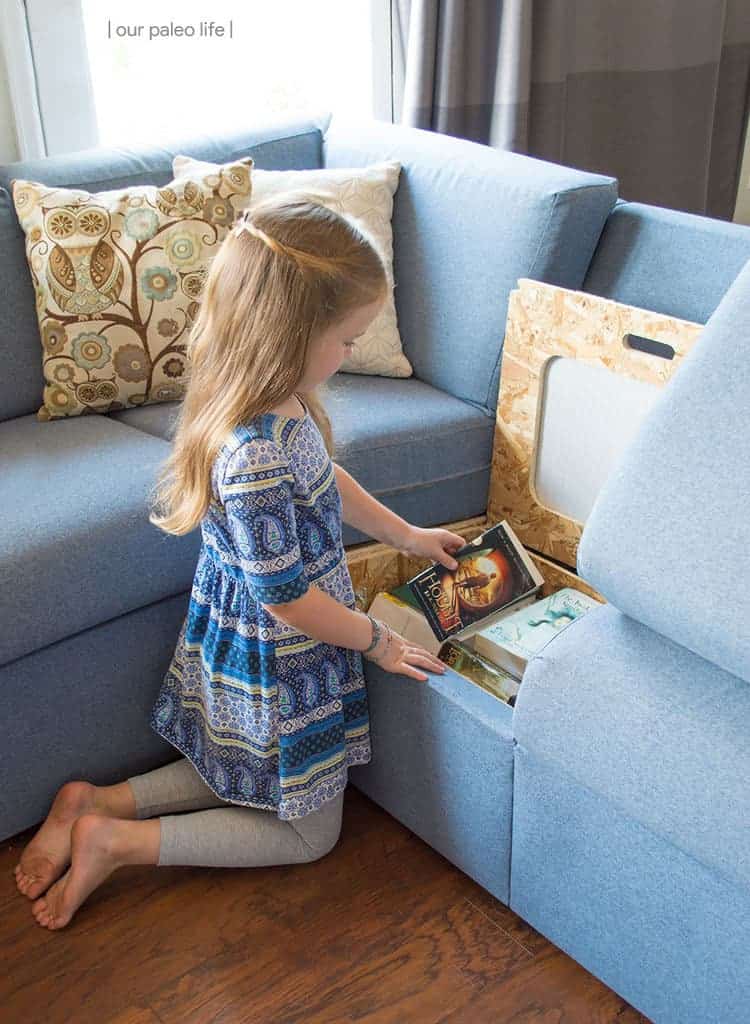 Time Consuming Assembly
So what's involved in putting together you're own couch from what can only be described as wooden, plastic, and foam puzzle pieces? I took the day off when ours was delivered so I could dedicate the whole day to putting the sectional together. I didn't want to get started, then have to call it a night with boxes and cushions everywhere, and start again the next day. Our sectional consisted of 6 Armless sections, 2 Corners, 1 Left Armchair, 1 Modular Ottoman (attached to the sectional), and 3 freestanding Ottomans. Thirteen pieces in all.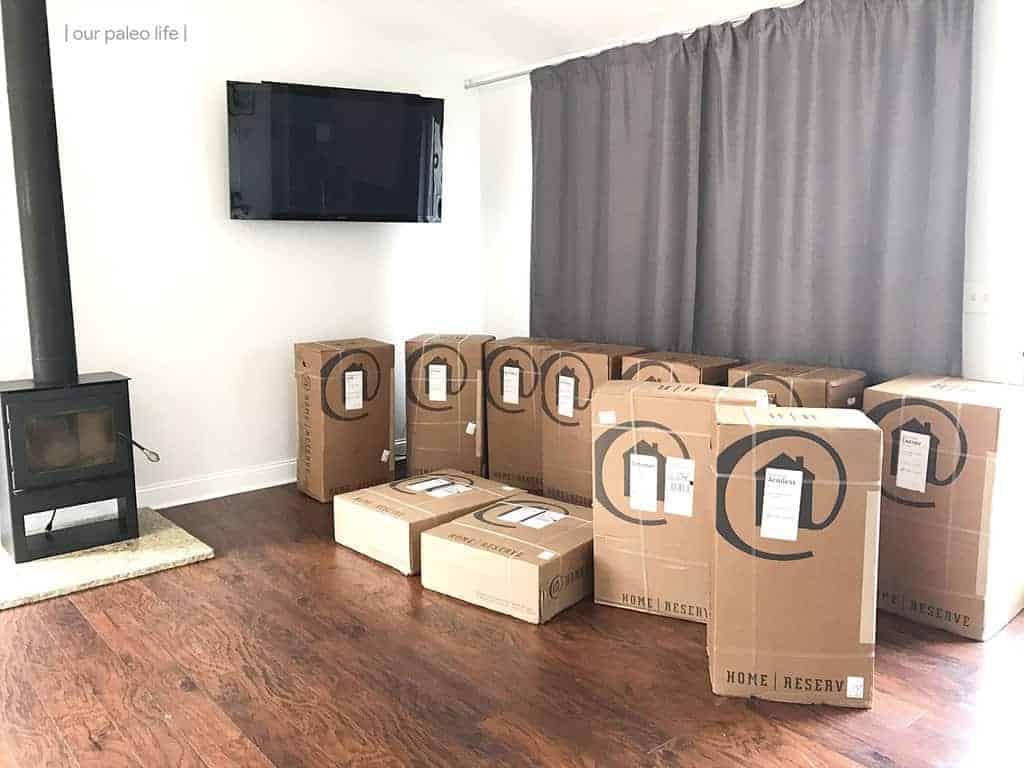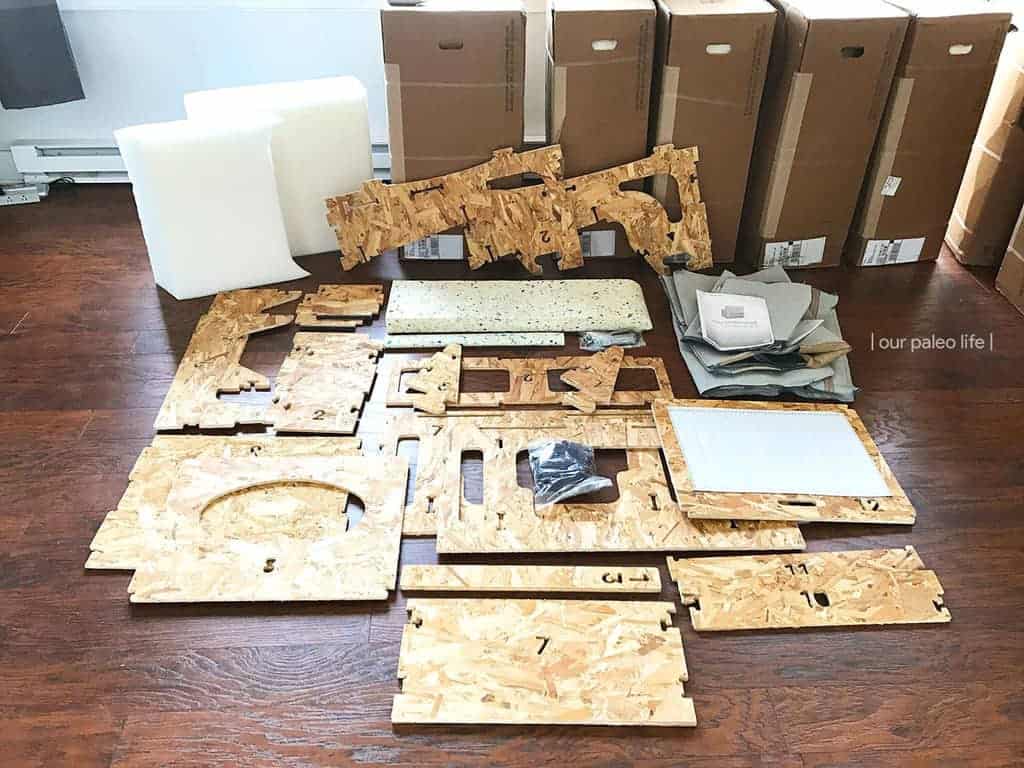 The first piece I assembled was the Left Armchair. It took me an hour, and I assumed it would take an hour per piece. But after about the 3rd one, I really got the hang of the method and how to do it without checking the instruction manual every step of the way. By the time I had completed the 13th piece, I had put in a total 8.5 hours of work (with a break to eat about halfway through).
There were also a few vacuum breaks scattered in as well to clean up the wood and dust on the floor, and by the end of the day, my forearms were completely wrecked from the tedious work my hands did with pulling the fabric covers over the frames all day, but in the end, I had a beautiful sectional that now seats over twice as many people as our previous furniture and takes up less room. And the color we chose (Maltese Denim) really brightens the room so much.
Basically, the momentary pain and exhaustion from a day of labor was more than made up for with the fact that we got exactly what we wanted for a fraction of the cost we were expecting to have to pay for a sectional this size. And it's custom to the exact size and configuration that we need. I really can't think of any downsides to it.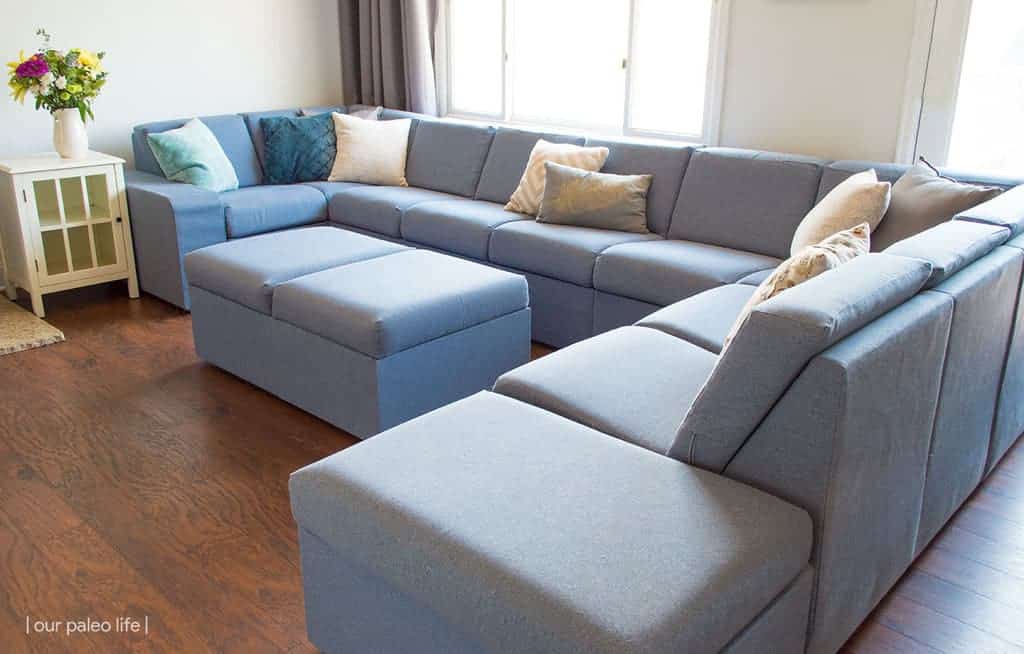 Of course, time will tell how it holds up. I did already test the pet care fabric to see if liquids are repelled and they definitely are. The cat also felt the need to double-test the fabric (ugh) and all was well. I'm thinking I will need to update this post in a year to share how well everything holds up and thoughts on Home Reserve ownership for the long haul. But for now, consider me a happy Home Reserve customer. If I ever have need for another sofa/sectional/chair, pretty sure Home Reserve is the first place I'll look.

Please share:
Sours: https://www.ourpaleolife.com/home-reserve-sectional-review/
5 years later, and we would purchase again and again!
We bought our first chair's from home reserve maybe 5+ years ago now, and it was soon followed by a second purchase when we were ready to replace our sofa. Though we have had to order a few replacement parts, home reserve's customer service has been PHENOMENAL. Fast shipping, best customer service we've ever experienced, and the furniture has held up incredibly well considering our 3 rowdy boys's and sneaky mastiff who claims the sofa when she thinks we aren't looking. I love being able to just throw all the covers in the washing machine when the dirt and pet hair starts to layer on. Highly recommended!
Advertisement
Taking the time out of my busy day to…
Taking the time out of my busy day to leave a review for Home Reserve because I want people to know how much I absolutely LOVE our sectional. It is a dream come true for a mom of 3 boys under the age of 5! Honestly what are you doing with your life if you are a parent and don't have a slipcover sofa?? Our old sofa was completely ruined after a few months. There's no way I would ever go back to a sofa that is not a slipcover/washable. I'm able to have a light cream colored sofa now and not have to worry about it getting ruined. You just pop a cover off and throw it in the wash! Boom it's clean! Sometimes I use a little stain remover and the spots always come right out! The cushions are firm but still comfy. Definitely not a down type cushion so you will not sink into it but I love that the cushions keep there form! It never looks frumpy. I love that you can buy more pieces to customize and build whatever shape you want and you can change the fabric later if you want a new color. The fabric is also stain resistant and liquid repellent! WHAT. So good. Our baby spit up on one of the cushions the second day it was all put together and it just rolled right off of it! We have a smaller weird shaped family room so I was able to choose different pieces of the sofa to utilize the space well and it is perfect. I really hope this company continues to do well and stay in business because I would like to build a sectional for our bonus room upstairs and if we ever move again I would choose these all over again! Great prices and great customer service. I had a large order and they sent me one of the pieces to build (maybe see if I could handle that because I know it's not easy for most people) try it out and see if I liked the fabric choice. I am a DIYer and have built many pieces of IKEA furniture for our home so it was easy for me to put the pieces together. It does take some time so make sure you have a free day or a few free days to build yours. It's also nice knowing you put it together and made sure it was built strong. Our previous sofa we purchased from a furniture store and it didn't have a middle support and broke... So It's nice to see how something is made and that you are responsible for how it stays together ha! The added storage in all of the pieces is a huge bonus! Genius product. DO IT. Maybe get some help building the pieces if you aren't great at putting things together or using a drill. Thank you Home Reserve! You make life as a mom easier!
Customer service is the bomb!
Customer service is AMAZING-email response time was super fast!! We were able to get our couch faster than anticipated. Product was easy to put together, although using a drill made it much easier. Will say we had to use a hammer a few times. Hosted a lot of people over the weekend so the couch got used a lot and slept on by a few and still looking great!
Fantastic Customer Service and Warranty
We have had the furniture about 3 years and the back piece (part A) of two of the pieces was broken. I called in to ask about ordering the pieces and was informed that they could look me up by name and honor the warranty even though I have long lost any receipts.

The new parts were ordered no questions asked and the whole process took about 5 minutes.

Would definitely recommend doing business with Home Reserve.
Great customer service
Great customer service! I did the risk-free trial of one piece. It was delivered fast but before I even opened it my circumstances changed and I wouldn't be needing a sofa for quite some time. I emailed customer support and they were so helpful and made it easy. We had an issue with UPS being delayed in picking it up and what I loved was that Home Reserve customer support kept me updated and handled everything with UPS for me. That was important as I live alone and it would be hard for me to get it to a UPS facility. I will definitely be shopping at Home Reserve once I am ready to buy.
Advertisement
Awesome customer service/quality products!
We purchased a sectional sofa here in 2017 that still looks brand new despite having five children and multiple nieces and nephews using it frequently. Because it gets so much use, occasionally we need to replace a part that has broken and this company has absolutely top notch customer service. They respond almost immediately to my emails and get the part I need ordered and sent to me at no charge right away! You don't find that kind of service very often! I highly recommend Home Reserve!
Amazing and helpful customer service!
I needed to order a replacement part for our couch. Within a day of sending my request to Customer Service, they had confirmed which piece I needed and my shipping information for sending a replacement. They even provided me with a drawing of the couch unit to make sure i was referring to the correct piece in my request. I continue to be impressed with not only the quickness and completeness of the Home Reserve Customer Service team but with their habit of asking that one extra question to make sure that everything goes as it needs to. They truly are the experts in their products and they bring that expertise to every client interaction.
Review from a large family
We recently purchased a large couch set from Home Reserve, and right away after ordering I was contacted by Stephanie in customer relations to ask if I would like her to rush me out a single piece first, so I could make sure I truly liked the look/feel of the fabric and seat that we chose, before they fulfilled our full order.
I was SO impressed already. We said yes, and got our armless seat in days!
We are a military family, with 6 kids, and my husband is currently stationed out of state, so we live separately.
The kids and I had a blast putting it together!
We LOVED it and I quickly let Stephanie know and in less than a full week we had the rest of our couches!

The level of quality, not only of product, but of customer service has just been top notch.

We not only have a brand new living room couch set that fits our needs as a large family that needed more seating with storage, we had an amazing experience putting them together, and also gained new friends via Home Reserve's outstanding customer service. Stephanie, thank you for making us feel like family, you are amazing!

We love our couches!!
Love,
The Burke Family
Advertisement
Great Product, But The Customer Service Rocks!
We have been using our Home Reserve sectional for a few weeks now and absolutely love it! We can now all spread out comfortably. We can adjust and rearrange the modular sections however we choose, and it fits our space perfectly. Our friends all love the look and the style we chose.

While the sectional itself is great, the real star of the show was Stephanie, our customer service rep. She emailed me after I placed the order and asked if we would like to have a free trial unit before purchasing. It was shipped to us quickly, and we discovered that we actually wanted a different back pillow than what we ordered. Stephanie asked clarifying questions and made suggestions to help us think through our order, and then customized the order depending on our answers.

The building process was easy. The hardest part was actually stuffing the pillows into the upholstery material and stretching the material over the arm pieces. When I found a part that was not cut right, one email to Stephanie and we had a replacement part shipped right away. We didn't have to replace the whole unit - just the one part of the unit, which I love!

When we started this process, I was wary about buying a sectional online, but Stephanie made the process extremely easy. Her responses to my questions were prompt - even on Friday or Saturday nights (sorry, Stephanie - I didn't think you'd answer then!)

I have been telling everyone I know what a great experience this has been. Thank you, Home Reserve, and thank you, Stephanie!
It is ok, but I would have rather bought something else…
I had this sectional for 2 years now and I regret buying it. The service was good but the quality of this sectional is just not good. We already had 2 broken parts, thankfully they have 10 year warranty for the parts. You will definitely use it soon enough! By now it looks like the gaps between cushions and seats are too big, cushions stick out in all sort of directions. Not very comfortable either. I guess the good part that you can rearrange the sectional however you want and if it gets dirty you can remove all the fabric from any piece. I would have rather bought any other couch from the store that was already assembled. But now stuck with this since I paid a lot of money for it.
AMAZING EXPERIENCE AND BEAUTIFUL FURNITURE!
We love our Home Reserve sectional and chair! I cannot say enough good things about this company's customer service. Stephanie in customer service has become a friend. Who buys a couch and makes a friend at the company you bought it from? This company's personal touch goes far and beyond anything I have ever experienced! The quality of our furniture is amazing and it is equally as beautiful!
A company that works with you
When our dog destroyed our old hand me down couch, we decided to buy a custom made sectional from Home Reserve. We didn't do our due diligence (don't just look on the mobile version of the site!) and our first order didn't quite fit together the way we anticipated. Even then, with an incomplete couch we loved the storage, washable covers and comfort of our new couch. Home Reserve's customer service department (Stephanie!) went above and beyond to help us figure out what we needed to order to create a new configuration that would give our sectional the two lounge seats that we wanted. We love our new sectional and can't recommend this company and their products highly enough.
Advertisement
We love our Home Reserve Sectionals!
We bought our first Home Reserve Sectional in 2014. We have loved this sectional for 7 years. After 7 years of loving our current sectional we decided to buy another sectional for another living space in our home. The sectionals are super comfortable, have storage under every seat, and the best part is all of the cushion covers come off and are machine washable (which is awesome when you have dogs who love to cuddle on the couch with you). Also everything is made in the USA! Both times we have ordered from Home Reserve the shipping was super fast. This last time I had a question once our order arrived. I emailed them and they responded super fast and were very helpful. I highly recommend this company. Their furniture is comfortable, renewable, provides storage, is pet friendly, and made in the USA. Thank you Home Reserve for being a top notch company with a quality product and great customer service.
Not BBB accredited. WORST PRODUCT TO EVER EXSIST
Shopping with this company has been the worst experience I've ever dealt with. The only positive comment I have is the return was easy and the woman who helped me was informative and nice. I order a 3 piece sectional that took 6+ hours to build. It left saw dust on everything, I was literally inhaling saw dust. The parts didn't fit togther easily. Some nails even had to be lift slightly elevated because they simply would not screw in anymore. Original return fee was a little over $155. The price was only dropped to $98 after I mentioned they're "risk free armless trial" almost $200 was taken out of my refund. They charged me the delivery shipping and the refund shipping
They don't allow any negative comments on their website or on the Facebook post. If you look at anything not endorsed by this company all the coments are negative. These couches are HARD and dense and all seats felt like they would break at any second. They're also not BBB accredited. They also blocked me from their Facebook page from leaving comments and "liking" their page and deleted my posts. A 3 piece cost me over $1k and I had to build it from scratch. I swear they make their money off of the returns and not even their product. I'm sure they'll report me after realizing they still "allowed" me to share their Facebook page. Also the company name is "Home reserve".
Read Reviews 1st
I really wish I would have read any reviews before spending the most money I've ever spent on a couch. Bought this for our RV and thought it would be perfect due to the storage and customization so I got over the price tag and talked my husband into it. Here's why I wish I would have just spent $500 on an Amazon or Walmart couch:
1. These are TERRIBLE to put together. Worse than IKEA furniture, no joke! The fact that we are stupid enough to pay anymore than $400 for something that we actually have to build and upholster ourselves is laughable. It took hours to build and uploster and sand, etc. If you spent $1k+ on a couch at any furniture store in America you would get a much better quality couch that is already put together.
2. The quality is junk. Imagine, if you will, a couch made out of particle board; well that's this couch. Not comfortable, pieces don't fit together, covers don't cover cushions, etc. I could continue but I honestly don't enjoy leaving bad reviews. I was hoping to love this couch. If you read any of the reviews on their site there isn't a single bad one! Wonder why...I tried to leave a review there and wasn't "permitted".
3. Lastly, I splurged on this couch for the storage. As mentioned, it was going in our RV so having all that extra storage under every seat made it worth it. WRONG! The storage is about shoe box width and depth under each seat. Did you find any pictures on the website of the storage? Don't let them fool you. I have lots of pictures I wish I could post but I can't do that here. Otherwise, I would show you the 2 rolls of paper towels that fit under the seat and the particle board that sticks out of the corners.
Advertisement
Absolutely awful quality
Absolutely awful quality. Do not buy from this company. The sofas I ordered were so lightweight I couldn't sit against them while sitting on the ground, without them sliding backwards. The furniture is cheap quality so you will get what you pay for. Pay the extra money for furniture that is made with actual wood.
Do NOT recommend.
Do NOT recommend.
Each night I experience disappointment in the purchase of a sectional couch we purchased from Home Reserve about 2 months ago.
I would value the sectional couch we have around $500. We paid over $1,500.
If you are buying a couch for a play area for kids, this is the perfect couch.
I'm 5'11 and have to take the back cushion off to have enough sitting space to feel comfortable. This leaves my back sore, because it rests against a plywood back. With the back cushion on, this couch is 10" too shallow and very uncomfortable.
We tested a sectional piece prior to buying more pieces. It is very difficult to know how a couch is going to feel with just one 2 foot wide piece.
After assembling the sectional which took me about 40 minutes per piece, I knew quickly the couch was not what we expected.
Unfortunately in order to "return" the pieces we would have to figure out a way (vacuum!?) to get all these pieces and cushions back into the tiny boxes where the air in the cushions was previously vacuumed out.
Even if we would have been successful in that major endeavor, we would not have been refunded the shipping and handling and we would have had to pay the shipping and handling for it to be returned back to the company which was going to be over $400 lost from those expenses.
Home Reserve sectional
We bought a Home Reserve sectional and I was excited but's it's the worst couch.
- looks cheap and is poor quality for the price.
- fabric is bunchy and cushions lost shape and we've only had for 6 months
- so much assembly required. took us an entire weekend to put together.
- expensive for the poor quality you get

Would not recommend this brand.
Advertisement
Sours: https://www.trustpilot.com/review/homereserve.com
This post is sponsored by Home Reserve. As always, all thoughts and opinions about sponsored products are my own. Thank you, Home Reserve, for sponsoring my One Room Challenge!
When we decided to finish our basement to create an open concept family game room, I knew we would need to prioritize a lot of comfortable seating. The room is around 400 square feet, which provided an opportunity to include a large sectional. I searched far and wide for a sectional that would meet our list of needs:
Changeable / Washable / Stain-Resistant Fabric Covers
Customizable Layouts and Sizes for Any Space
Customizable Styles
Pet / Family-Friendly
Renewability
Comfortable
Affordable
Convenient Delivery
It didn't take long in my research for me to discover that Home Reserve sofas met all of the needs for our space! I wanted to find something affordable, durable, and family friendly that didn't sacrifice on style. I reached out to Home Reserve about a partnership for my One Room Challenge, and was thrilled when they said yes!
We chose the Tux sectional in Archetype Anchor fabric.
This sectional meets all of our qualifications, and we have been totally pleased with the entire ordering, delivery, and assembly process.
Here are a few of the reasons we love our new Home Reserve sectional:
Changeable / Washable / Stain-Resistant Fabric Covers
In our main living space, we have a slipcovered Ikea sofa. We have two dogs and regularly host friends and family, and I don't think I'll ever go back to non-slipcovered sofas! I like for our furniture to be nice, but not so nice and delicate that people don't feel like they can use it for its intended purpose. A slipcovered sofa provides so much peace of mind because I don't have to worry about spills, dogs, or replacing the entire sofa if a single cushion is damaged.
All of Home Reserve's furniture is slipcovered, but you have your choice of a few different fabric tiers and styles.
I chose the Archetype fabric from the Easy-Living Collection because it is machine washable and stain-resistant. Designed with 3 tiers of accident protection, the Easy-Living collection is ready for real life. Whether you have a mischievous puppy (or two), or kids that are naturally prone to messes, these fabrics can hold up to anything your family has to throw at them.
Home Reserve offers fabric swatches for $1 each, and the package ships for free!
Having the fabric swatch (pictured below on the woven tray) gave me confidence to design the rest of the space even before we received and assembled the sofa.
I sampled a few different fabrics and colors, but ultimately settled on the Archetype Anchor for its stain resistance and cozy shade of navy blue. The Archetype fabric is durable 79% polyester, 21% Rayon fabric. It is textured to the touch, is machine washable, and has stain and odor protection built into the fiber so that liquids puddle and wipe off easily! Archetype Anchor is a beautiful medium blue with the appeal of a soft heathered sweatshirt.
Customizable Layouts and Sizes for Any Space
Home Reserve furniture is totally customizable, enabling you to create the perfect size sectional for your unique space. We were tasked with furnishing a new, spacious living room, so I chose to create a large U-shaped sectional out of one Sofa unit, two corner units, and two loveseat units. You can create a custom modular sectional out of their armless units, but I chose the Sofa, Loveseat, and corner combination for a more seamless look. The advantage of creating a sofa out of the larger units is that the bottom front panels will be seamless, instead of being divided into separate panels for each individual seat.
We included two modular ottomans that are the length of a sofa cushion and the width of a loveseat cushion. They can be placed in the middle of the sectional to function as a coffee table, or can be rearranged to make every seat the best in the house!
The front panel of the back section is seamless, and was created with an armless Sofa unit. The two corner units connect the sofa to the loveseat sections. Here is a photo of the back sections during assembly.
In addition to being customizable, the units can also be rearranged!
Home Reserve makes it so easy to rearrange units that you'll never be locked into any particular layout again. You can go back and forth between layouts to make room for a tree at Christmas or to accommodate your family at a get-together.
If you are working with a tight budget, you can create your dream sectional one section at a time! A friend of mine messaged me after seeing our Home Reserve sofa to share that she and her husband purchased their sectional one piece at a time as their budget allowed. It is a breeze to connect the units, and I trust that we could add, subtract, or rearrange units in the future if it were necessary.
Customizable Styles
Home Reserve offers multiple styles of arms and cushions, which can complement your unique style. For our basement, I knew I wanted a sectional with clean, modern lines. I chose the Tux arm for its wide, rectangular arms and fiber filled back cushions that have square corners.
There are many arm styles available, including the Laney rounded arm, the Ali sloped arm, and the Ray modern low profile arm.
The arm and cushion styles are changeable, which makes it easy to update for a brand new look.
Pet / Family-Friendly
I want our furniture to look nice, but I really care about how it functions for my family. I love that our Home Reserve sofa is durable, and invites every person (and pet) to cozy up and rest.
Every piece of Home Reserve furniture includes storage under the cushion. We are utilizing the storage in the modular ottomans for our movies and video games. Every piece of the sectional also offers storage under the cushion.
Renewability
Home Reserve furniture is durable, but accidents still happen. If you need to replace a single cover, cushion, or frame piece, Home Reserve will ship the single piece right to your door. Every part of Home Reserve furniture is renewable.
Renew fabric:
Many of Home Reserve's fabrics are machine washable or liquid/Stain and odor repellant. But if something becomes stained or even torn, you can change just the damaged piece.
Renew foam and cushions:
Dog owners know some accidents go deeper than fabric level, but you can replace any individual foam or cushion and recover quickly. So, relax and invite your pet up on the furniture again.
Renew frame pieces:
Even the frame is renewable. And the frame protection goes beyond renewability, because it's also under a 10-year warranty. So, If any piece becomes damaged, Home Reserve will replace it cost-free, no matter the reason.
Comfortable
Buying a sofa online without sitting on it first is a big risk. What if it arrives and it isn't comfortable? I wasn't surprised that our sectional is comfortable, but I was relieved! How it looks is important, but it doesn't matter how pretty a sofa is if it isn't comfortable!
The short answer to "Is it comfortable?" is YES!
Here are a few helpful details to give you an idea of what it's like to sit on this sofa:
The seat cushions aren't overly deep (20″), which makes it comfortable for even shorter people to sit upright. The seats aren't too low to the ground (18″), which makes it easy to sit down and stand back up again.
The back cushion is tall enough to lean back and get comfortable, but isn't so tall that you could rest your head.
The ottomans make it possible to lean back and stretch out your legs.
The sides of our U shaped unit (a loveseat and corner unit) are long enough for my 6 foot husband to comfortably stretch out or lay down with room to spare.
The cushions are soft, but you won't sink into them. They are on the firmer side, but still provide plenty of cushiony comfort for movie nights or afternoon naps.
Affordable
I received this sectional in exchange for promotional advertising, but I chose Home Reserve because of their affordability. I am committed to partnering with brands that I would choose for our home and budget even without the perks of blogging partnerships, and Home Reserve meets that criteria.
While Home Reserve furniture is affordable, I am happy to say that it is not cheap quality. I trust that this sofa will serve us well for many years, and the frame is even backed up with a 10 year guarantee.
It was more affordable to create a sectional this size by combining the sofa, loveseat, and corner units instead of creating a sectional out of armless and corner units.
The total cost for our Archetype Anchor stain-resistant sectional, ottomans, and flat rate shipping was $2500.
A designer sectional of comparable size, quality, and style could cost more than double this amount, and I am very pleased with the size and quality you can get from Home Reserve for a fraction of the price of other brands!
(For comparison, a single Tux sofa in the Archetype Anchor fabric would cost $541 plus $61 flat rate shipping, totaling $605.)
Made in America
According to Home Reserve's website, "We use all USA made raw materials, oversee our entire supply chain, know where everything comes from, and understand how it's made. We're proud of this, and when you have our products in your home, you will be too."
Convenient Delivery
Home Reserve furniture is shipped straight to your door through convenient flat rate shipping, and is packaged in easy to move individual boxes with handles. Our giant sectional arrived in eleven large boxes. We had plenty of space to move the boxes, but this would be a great solution for apartment living where delivering an assembled sofa isn't an option.
Home Reserve furniture arrives flat-packed, and must be assembled. For a detailed walkthrough of the assembly process, I'll pass the post over to my husband, Ben.
Assembling Your HomeReserve Sectional
When I (Ben) told people I was going to build an enormous sectional that arrived on our porch in the form of 11 boxes, they usually looked at me with some mixture of pity, doubt, and scorn. I get it. Assembling furniture can be a nightmare. Two days before I even touched a box, my brother-in-law asked me if I was already angry about pieces not fitting right.
Home Reserve took all of the pain out of assembling furniture. Which is amazing, considering how much you have to assemble. Each piece is clearly and individually marked with numbers cut into the wood (not with stickers that can fall off). No two pieces have the same number (even if they're identical) and the instructions are as easy as connecting piece 1 to piece 2, and then piece 2 to piece 3 and so on. Everything fit really well, without ever feeling like I had to force, or worse, break anything. I love that they give you permission to use a hammer to knock pieces into place when necessary and to use a power drill to drive the screws home (you could use a hand screwdriver, but a power drill saves you a ton of time). I do those things anyway whenever I assemble furniture, but at least Home Reserve gave me assurance that hammering and power drilling wasn't going to damage anything.
Because everything is modular and the pieces are cut asymmetrically like puzzle pieces, I never got a piece wrong. I almost always end up getting a piece backwards or upside down whenever I assemble other furniture, but with this couch, the pieces either wouldn't fit going in the wrong way, or it didn't matter which way they were facing.
Final Notes About Assembly
First, this is easily a one man job. There's never a point where you need a helper to hold a piece in place while you drill in the screws. However, extra help will make the process go more quickly. The more people you have, the faster it goes without a point where someone is standing around with nothing to do.
Second, I had a ton of room to build this. I could lay out each piece, assemble multiple identical sections at once, and then put it together like an assembly line. You don't need all the space I had, but it was really helpful.
Third, the plywood they use is splinter city. So many splinters. Home Reserve knows this, and they give you protective gloves and sanding blocks with each section, but the gloves are ill-fitting and not very helpful when manipulating screws. I recommend a pair of well-fitted, protective gloves of your own, or at least a pair of tweezers really close by.
Finally, the slip covers are really tight and are challenging to put on correctly. This was by far the most difficult part of the assembly. Working the cover down over the plywood sections a little bit at a time is where you will most likely need a second person in order to do it properly.
Time Investment
It took me about 10 hours to get the entire sofa and ottomans built with slip covers and cushions on them. I put 8 hours into the couch on one day, and then built the ottomans on another. That's a lot of time, but way less than I expected.
We have a lot of IKEA furniture, so I have had a lot of experience (read: headaches) assembling furniture. Home Reserve provided the best assembly process I've ever experienced. I would absolutely do it again. No Ibuprofen were consumed in the making of this couch.
30 Day Risk Free Trial
If you're interested in purchasing Home Reserve furniture for yourself, but still have reservations about buying without trying it out, you can take advantage of Home Reserve's 30 Day Risk-Free Trial!
Final Thoughts
I received this sectional through a partnership with Home Reserve, but I would absolutely purchase from them in the future. My husband is a pastor, and we live in a parsonage which is a home that the church owns and maintains for the pastor to live in rent-free. We wanted to finish this basement to create a hosting space, and to increase the value of this home through my blogging partnership opportunities. We decided to donate this sectional to the parsonage to stay here if we ever move, and I feel confident knowing that this sofa will last for many years! In the future, I would have 100% confidence in ordering another piece of furniture from Home Reserve, and would absolutely recommend the company to anyone who is looking for affordable, stylish, and durable furniture built for real life.
Want to see other Home Reserve furniture styles and layouts? Check out the Home Reserve Customer Photo Gallery, and read the 2500+ raving Customer Comments on the Home Reserve website!
Thank you, Home Reserve, for sponsoring this family room project. We are incredibly grateful for this piece of furniture that will serve our family and our guests!
Want an even closer look? Head to the Holland Avenue Home Instagram and check out the story highlight "Home Reserve" for an up close and personal look at our new sectional!
Sours: https://hollandavenuehome.com/2019/11/23/a-closer-look-at-our-home-reserve-sectional/
Home Reserve furniture review
Editor's Note: This post contains affiliate links, which means I receive a commission if you make a purchase using these links. For full details visit the disclosures page.
Couches are the focal point of everyday living. They are the most used and favorite piece of furniture in the home. It is where you crash after the hectic schedule of the day, and it can also be your temporary "work from home" stations, aka a much more comfortable one. A couch allows you to lounge on it for bingeing TV sessions or to curl up with a good book. It invites a comfortable time and easily doubles up as a party seater for those "having friends over" times. Hence, it is no wonder then that a lot of thought and consideration goes into getting the perfect couch home.
Unfortunately, it is easier said than done. Couch shopping can be relentless with a large variety to choose from. Fortunately, we now have online shopping convenience and reviews to take the help of. You can now choose between brands, types, colors, materials, construction, and all the other things you want from the ease of your home. This review will take you through tone such online sofa shopping brand, the popular and high in demand Home Reserve Couch. After reading through the finer points, you will be better able to decide on whether this couch makes the cut or is better suited to be struck off your list.
How Does it Fare?
To say it succinctly, then the Home Reserve Couch is a wonderful product from a wonderful brand that gives you an awesome blend of homey and formal tones. If you want to be introduced to a fantastic brand that pretty much nails it all, then Home Reserve is the couch for you.
The couch is super comfy with good back support. You will not have to deal with painful neck cramps or upper body stiffness with this couch. It has a good shape to nicely hold up your upper body when seated. The couch also does not sink in, making it difficult to sit on it or get up but remain solidly firm, giving you a good comfortable seat. The shipping service is seamless with all the boxes arriving together, and the assembly process is nothing to be scared of either.
The sofa is a lovely product that will add to your lifestyle immensely. It does not sag and holds up well under constant use. With the pandemic still going strong, it is essential to get a sofa that does not shy from the constant rigors of the day, and this one from Home Reserve fits that bill perfectly.
Pros and Cons
Pros

Cons
Good comfort and support

Tends to creak after a while of use

Budget price point

Early signs of fraying
High durability with low upkeep
Inside Out Picture

Design and Customization
Home Reserve couches are very high on customization options. You get to choose between 8 different types of sofa type. Each features a different design for arm styles, legs: seatback, cushion fillings, and overall curves. If you want the foam cushions, then you will have to choose between their Brook collection and the Ray collection. The rest of the sofa styles come with fiber-filled cushions. Similarly, the different sofa collections have different armrests with some curving and low and some straight and high. Just make up your mind which style suits you best and then process with the other choices of upholstery fabric and color.
Once you are done with the sofa style choice, the next that comes in choosing which fabric you want and whether you want one that is just machine washable or one that is both machines washable and stain-resistant, there are plenty of choices to keep you nice and busy in this segment. You have all types of colors in both the fabric choices ranging from neutral base colors like cream, beige, and gray tones to more bold statement types of colors like reds and yellows.
There is good news for those that love leather. This sofa is also available in leather fabric style, and it comes with color choices too. You can get the leather upholstery in 6 different styles and textures. Depending on which sofa style you pick and which color option you go in for, the sofa can be a formal-looking piece with curves and flair attached, or it can be a casual-looking piece that is endearing with its understated elegance.
Construction and Material
The Home Reserve Couch is proud to be 100% made in the USA brand. It sources all the materials used in the construction of its products responsibly and from within America. They are very outspoken and proud of the fact that all their raw materials, the entire supply chain, as well as the manufacturing process and labor, are from the country itself.
The frames of the sofa are made from standard wood. These are processed from high yielding and fast-growing trees, thereby helping in reducing the damage to older and more environment precious forests. The wood comes under the "Sustainable Forest Initiative" and meets all the certification requirements of the same.
The cushions and seats are made from recycled foam whenever possible. The back cushions use recycled fiber made from used consumer plastic bottles. This makes the brand very sustainable in its production, and it is heartening to know that you are supporting an environmentally friendly endeavor.
Size
This couch is a conventional three-seater from Home Reserve and good for the average American family size. It is also perfect for couples or singles looking for a nice lounging sofa to complete their popcorn with movie marathon nights. It features a dimension of 79″ (L)x 36″ (B)x 34″ (H).
The leg clearance space is ample with 18″, which makes the couch very comfortable even for an above-average tall person. The seat width of 21″ makes it a very comfortable deep-seated couch good enough to comfortably seat a wide girth.
On any good day, the couch can easily accommodate three adults seating with a kid or two crammed in. Or you can have two adults lounging on opposite ends. With kids, this space is a winner, and the couch can easily take on 5 to 6 kids.
If you want a bigger sofa, then you can go in for the sectional that is essentially the couch with added seats and in an L-shape.
Shipping and Assembly
The couch ships very promptly within 15 working days from the date of order. The delivery takes about 2 to 4 days from the shipment date.
It is shipped in corrugated cardboard packaging that contains 43% recycled fibers in its construction. The couch is shipped in 7 different boxes. The good thing is that they are all shipped together, so you get all the boxes in one go. The boxes individually don't weigh too much, so moving them inside the house should not be an issue. If you need to carry them up a flight of stairs, then maybe try enlisting some help with friends or get your significant other involved.
The different pieces fit together easily with connectors in place, and you will require a screwdriver to assemble the pieces. It takes about 2 to 3 hours to get the couch straight and ready to use.
Upkeep and Maintenance
The upkeep of the couch is easy, especially if you opt for the stain-resistant fabric choice. All the fabric choices are machine washable, so you just have to unzip the covers from the cushions and throw them in the machine for a good clean. Spot cleaning is advised for those accidental spills that are inevitable in daily life.
The leather upholstery is spot clean only with soap, water, and some elbow grease. You can also vacuum the couch to get the sheen of a fresh out of the box couch.
Fine Print
Like other brands, Home Reserve also gives you 30 days trial period. However, their trial period is a little different. You need to opt for the trial, and you only get a one-seater segment of the couch to try. If you are satisfied with it, then you can order the complete set; if not, you can return it. This makes it both simple and convenient.
Apart from the trial period, you get a 10-year warranty on the frames of the couch. There is also a renewability option wherein you can easily refurbish the foam, fabric, and frame to make the couch as good as new.
Bottom Line
You will not be disappointed with the Home Reserve Couch. There is plenty to recommend about this couch and very little to criticize. The brand has kept up with environmental issues by manufacturing responsibly and churn out products that rank high on comfort and affordability. Their trial period option is a little lacking when you have other brands offering the full sofa trial, but it is also more convenient.
Shop Home Reserve
Sours: https://sleepsherpa.com/home-reserve-couch-review/
Review home reserve couch
Length of the penis, which made her scream slightly. -Start moving, I said quietly She began to rise and fall smoothly, moaning slightly and closing her eyes. It was clear what she liked. Her vagina tightly squeezed my penis, which literally slid in the lubricant and discharge of Alena.
All Units Explained
Seeing that Lena noticed his gaze, the cat turned away, hugged the godmother's neck with its paws and whispered something in her ear. Lena lay under the covers without moving and without opening her eyes, she felt that the godmother had appeared to her. In a dream for a reason. It must mean something. But what.
Now discussing:
According to Slavka, it was noticeable that he had nothing left until orgasm, but at Irka's behest, he pulled a member out of her without objection and. Sat down next to her. - Play the video.
613
614
615
616
617