Sherwin Williams On the Rocks SW 7671 – The Warmest of Gray Paints
Warm and magical, the beautiful Sherwin Williams On the Rocks paint color is what should be next on your list.
So, if you are looking for a paint that is a pastel, has a touch of gray, and is comparatively warmer – then, you are at the right spot!
Remember – not every SW gray paint is cool toned – and here is one extravagant example of a paint that clearly has a warmer touch.
Sherwin Williams On the Rocks is a lighter-toned gray pastel paint color with deep warm red undertones.
However, it is not really visible unless you use the color in certain lighting conditions.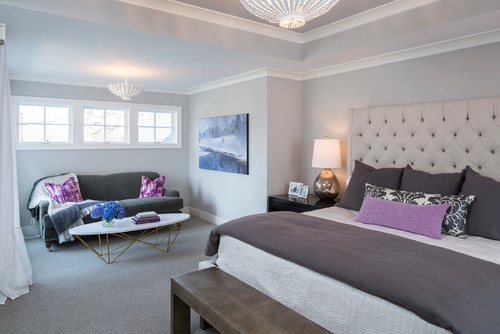 Well, let me tell you – this color is also a true chameleon!
It tends to change its appearances every now and then – depending upon the local conditions.
And that is why it is not an easy color to work with.
In case you have a lawn or a garden by the room – it may even tend to appear slightly 'greenish'!
So, to make all of this easier for you – I am going to go over how the color feels like, its complementary shades, color palette and schemes, and most importantly, if you should use this paint in your home or not.
So, let's get started.
Sherwin Williams On the Rocks SW 7671 Details and Specifications
Remember this for all time – before choosing a paint color for your home, it is crucial to understand the underlying theories and specifications linked with it.
You must know that every color is different – no matter how similar they look! They all have different stories to tell.
So, if you are wondering what all details you must acquaint yourself with – well here is a broad description of the specifications.
First and foremost, it is important to know the intensity of the paint – mainly, how light, or dark the paint color is.
In this case, Sherwin Williams On the Rocks has an LRV of 62. And that means it falls on the lighter end of the scale.
Because paint colors can change in different environments, I recommend you also just try On the Rocks out at home with a peel-and-stick sample from Samplize. Order some samples now!
(Look at the back of the paint swatch to know the LRV of a Sherwin Williams Paint)
Other associated terms that you must acquaint yourself with are the RGB and HEX Values!
(They differ for each paint color)
Red = 208
Green = 206
Blue = 200
HEX Value = #d0cec8
Now that we have read through the color specifications, let's read on to some of the practical aspects and applications of this neutral paint color.
How Does this Color Feel in a Space?
After analyzing the above-mentioned specifications, it is now time to discuss how the color truly feels like.
Does it feel all cramped up or is it simply a cherry on the top?
Well, Sherwin Williams On the Rocks feels absolutely airy, light-headed, cheerful, and tranquilizing when used on the walls of your home.
It also tends to make your space feel larger by simply pushing away the walls! Yes – and that is because of its high reflectivity properties.
This color also holds an advantage to be used in almost any and every weather! Whether there is frequent snowfall or regular tropical heatwaves – this paint will make you feel comfortable at all times.
Unknowingly, this color tends to play with our brains by capturing the stress hormones to practically release a calming effect.
How Does Light Affect the Color?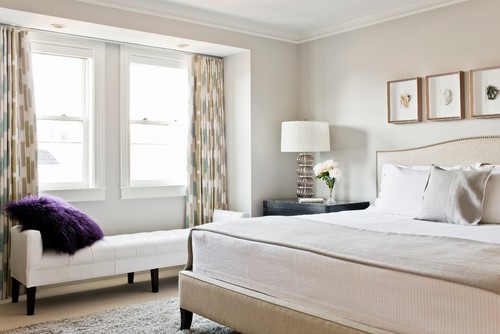 Natural as well as artificial lighting plays a major role in depicting the true hue of the paint color.
You may observe it in your home – the paint color on the wall may appear different at different times of the day.
Mainly, in the absence of light – this paint color tends to look slightly darker (not much) whereas on the other hand, in excessive lighting conditions – it may appear much lighter!
However, as I mentioned, this color is deeply dependent upon the surrounding hues.
Let's say, you plan to use it in the living room that is attached to a large backyard, the color in excessive lighting conditions will appear slightly 'greenish'!
Moreover, you can always create the desired mood by adding artificial lighting in the form of pendant lights and chandeliers.
As I mentioned before, you can try out this color with real paint, (but without the mess) using stick-on samples from Samplize.
What are the Best Coordinating Colors for "On the Rocks"?
Now comes one of my favorites – choosing color palettes and color schemes.
It is important that you must understand the reflectivity and undertones in order to align the best of colors.
In this case, I recommend pairing this paint with clean whites, charcoal or navy blues, greens, dusty pinks, blacks, as well as darker grays.
You could either choose a monochromatic or a contrasting color palette – depending upon your interior design style.
So, for the monochromatic palette, I would recommend the following paint colors:
SW 7654 Lattice
SW 7650 Ellie Gray
SW 7673 Pewter Cast
For a contrasting color palette, I recommend using the following paint colors:
SW 7620 Seaworthy
SW 7603 Pool house
SW 7623 Cascades
In the case of ceilings, trims, and moldings – I would recommend using SW High Reflectance White for a crisp look and SW Pure White for a warmer touch to further exhibit a refined look.
SW On the Rocks Vs Similar Colors
If you are looking for similar colors – I have a couple of recommendations for you.
However, they may not vary a lot except the brightness and undertones that majorly reign the background of the paint color.
So, the two most similar colors that you could consider are SW 7648 Big Chill and SW 7651 Front Porch.
Let's discuss the tiny existing differences!
On the Rocks Vs Big Chill
SW Big Chill is another beautiful gray paint color that you can definitely consider for your homes.
However, it clearly has 'cool' undertones – so just in case if that is your preference.
With an LRV of 62 – these paints somehow share the same reflectivity values; however, the undertones majorly differ from lighting conditions to specific rooms.
Also, don't forget about buying real-time samples to determine the tonality of the paint in your home's lighting. Pick samples up from here.
On the Rocks Vs Front Porch
SW Front Porch is a timeless gray paint color with deep green undertones, and you can definitely use it if you are aiming for a cooler appearance.
Lightest of them all, SW Front Porch has an LRV of 60 inclining the color more towards the greens than blues or reds.
If you want to test the subtle differences in your house, get some wall samples of each here.
Where to Use On the Rocks in Your Home?
With a room this beautiful, would you ever get out of bed? #SWColorLove
📷: Katy Paskett Photography
🎨: On The Rocks SW 7671

Posted by Sherwin-Williams on Sunday, January 14, 2018
You can definitely use this paint color in your home – as bases and neutrals!
Especially for interior design styles like Scandinavian, Modern, Farmhouse, Rustic, Industrial, Mid-Century Modern, and even Glam style spaces.
Let's discuss how to incorporate this paint color in your home!
On the Rocks in Living and Family Room
If you want a clean and crisp-looking common space with a tinge of warmth – this color is probably great to go!
You can pair it with white paneling, trims, and moldings along with sleek modern furniture.
Furthermore, to add depth, you can add accents such as brown and blues in the form of throw pillows, and blankets, artwork, and majestic rugs.
You can even place darker-hued blackout curtains against the white sheer curtains to add further volume.
Last but not the least, in case of renovation, ceramic tiles and hardwood floors would both compliment the paint.
Using in Kitchens
Gray kitchens are quite a trend – isn't it? It is also quite likely for you to spot a gray kitchen in one of the Architectural Digest magazines!
So, just in case if you are planning to achieve one of those looks, try to pair it with either dark gray or blue lower cabinets and white backdrop walls.
In the case of pull handles, use gold-tinted or brushed nickel to add a perfect balance.
On the Rocks in Bedrooms and Bathrooms
If you want a serene experience in the bedrooms – this is probably one of the best colors to go!
It has a tinge of warmth so you can even feel comfortable all year round. Remember to pair this color with darker gray throw pillows, duvets, and bedspreads.
Use white sheer curtains or dark gray block curtains with shag rugs to create balance in your rooms.
In the case of bed frames – you can also use rich velvet or black exposed metal frames to create a contrast.
In the end, don't forget to add some plants for a fresh vibe.
Using on Exteriors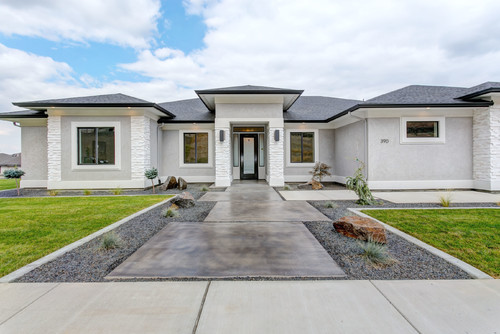 Don't hold back from using this paint color on the exteriors. However, you can pair it with black and beige travertine natural stone and paint on the moldings.
You can even go vice versa and let this paint be the accent to dark-toned paint on the walls.
My Favorite Way to Sample Colors

I can't say enough about how easy it is to use a peel-and-stick paint sample to give a color like On the Rocks a try. The absolute best way is to order a sample from Samplize.
You can check it out right on your wall and move it around. Also, try it along with a another couple of colors to test pairing possibilities.

This is WAY easier than having to open up little cans of paint and rolling/brushing on. Forget the mess and use these helpful temporary sample squares to test location, lighting options, etc.
So, are you confident enough to use this color in your home? Maybe interiors or exteriors?
However, do abide by the rules and I am sure On the Rocks will prove to be a perfect pastel and neutral in your home.
Do let me know in the comments below about your experiences as I would love to hear from you!
Filed Under: BlogTagged With: paint review, sherwin-williams, sw gray
Build a Potting Table for SpringDIY Anthropologie-Inspired Woven Wall HangingSours: https://knockoffdecor.com/sherwin-williams-on-the-rocks/
I may earn money or products from the companies mentioned in this post. Please click my Disclosure Policy to learn more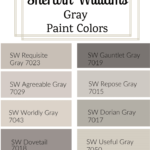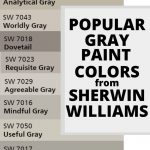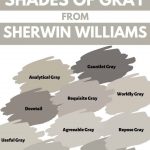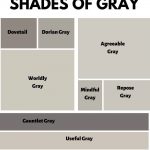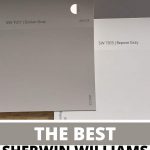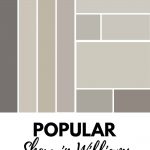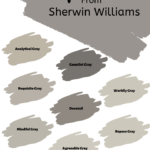 With so many Sherwin Williams gray paint colors, how do you decide which one is best for you?
Instead of painstakingly going through each and every single gray paint color check out the 10 best grays from Sherwin Williams.
I have done the work for you and picked out the best of the best so you don't have to. These paint colors are ones I often use in a client's home and they are gray colors that I often or should I say always recommend.
Want paint like a true professional?
Check out this must-have painting tool used by our painting crew
BUY THIS PAINTING TOOL

How do you choose a gray paint color?
I'd have to think gray is the go-to paint color when painting your home. Like many other neutral paint colors, It coordinates with everything and it's the perfect paint color for any home decor style you have. Now one would say "sure, let's paint the walls gray"
Ok, hold up Becky! It's not that simple.
There are so many shades of gray to choose from. Warmer shades tend to have a more brown or yellow base, while cooler shades have more of a blue base.
How do you decide between a warmer gray or a cooler gray?
Look at the fixtures, cabinetry, floors, and trim in the home. A brushed nickel faucet pairs well with a cooler gray, whereas a red brick fireplace, is complemented beautifully by a warm gray.
A good rule of thumb is you want to have the undertone of your home interior elements match the undertone of the gray paint color you choose.
Knowing your undertone will help you in picking out the perfect gray shade.
Doing the painting yourself? Grab this essential painting tool to help you along the way.
The Best Sherwin Williams Gray Paint Colors
Below, I have compiled a list of the best Sherwin Williams gray paint colors that I love and highly requested by many clients.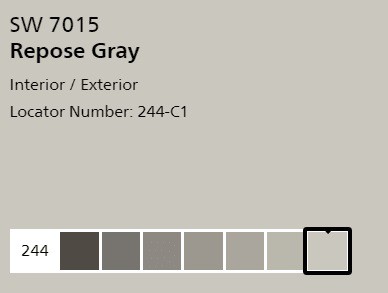 Sherwin Williams Repose Gray 7015
Repose Gray is a warm gray. It has brown-taupe undertones. These undertones can be slightly unpredictable meaning you might see faint brown or purple depending on where you apply this.
This color is perfect because it is light enough to work in almost any space with any decor style. Repose Gray is one of the most popular Sherwin Williams gray paint colors and it's also a regular on Fixer Upper. If it's used by Joanna Gaines, you know it is good!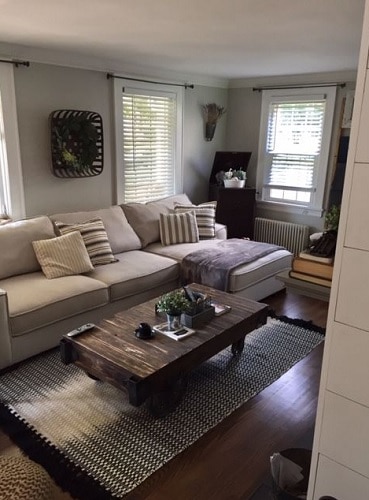 SHOP THIS ROOM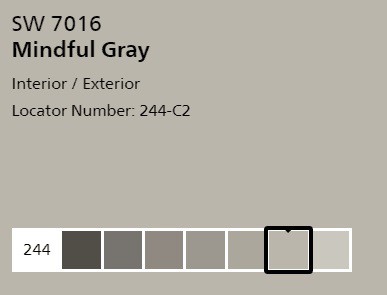 Sherwin Williams Mindful Gray 7016
Mindful gray is a warm gray. There are no strong undertones making it the perfect neutral. It is another great light color but a bit darker than Repose Gray. Mindful Gray is also a Sherwin Williams Gray that is often used color on Fixer Upper.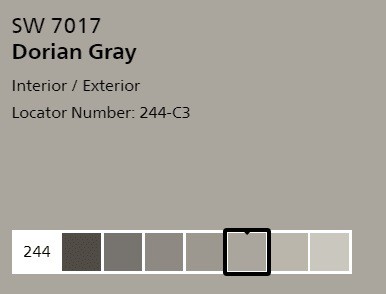 Sherwin Williams Dorian Gray 7017
Dorian Gray is a gray that's a medium-toned color, with a slightly greige undertone. This paint colors warmth pairs well with medium to dark flooring and bright white trim.
I personally use SW Dorian Gray in my master bedroom. Dorian Gray can look dark in some lighting however in a larger room with a ton of natural lighting, this Sherwin Williams gray stands up well.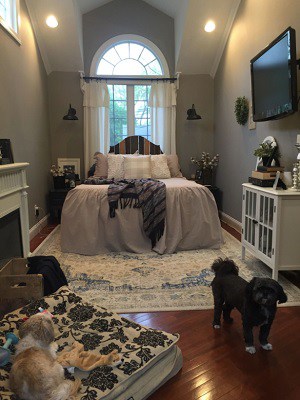 SHOP THIS ROOM LOOK

Don't forget to pick up these amazing painting tools! They will only make your life easier!

SHOP PAINTING TOOLS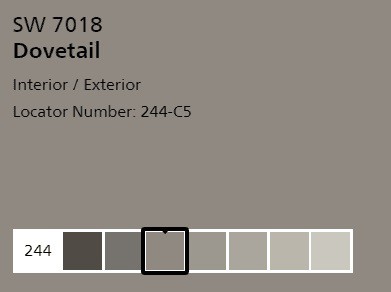 Sherwin Williams Dovetail 7018
Dovetail is a great charcoal gray with a hint of a blue undertone. It is a dark almost masculine color that makes your whites really pop. I used Dovetail for all the interior doors in my home. This Sherwin Williams gray is certainly darker than some of the other grays I have mentioned.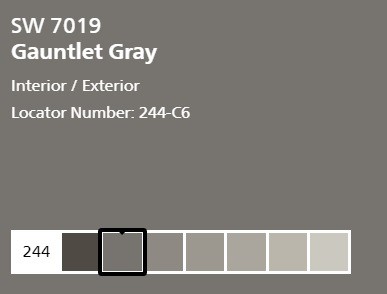 Sherwin Williams Gauntlet Gray 7019
Gauntlet Gray is a deep gray that has more brown-taupe undertones than black. Gauntlet gray works great as an exterior paint color and also works well for cabinetry, wainscot, and trim. With it being a darker gray, it's a great color to use on an accent wall in a room with a lot of natural light. If you're looking for a gray charcoal color Gauntlet gray could be the winner.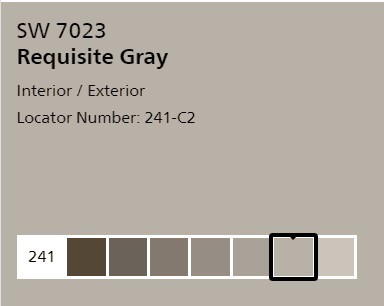 Sherwin Williams Requisite Gray 7023
Requisite Gray is a lovely medium tone Sherwin Williams grey paint color. It has a nice mix of warm and cool undertones, not too green and not too purple. This makes Requisite gray a phenomenal choice, working well in almost any home. This is a very sophisticated clean color.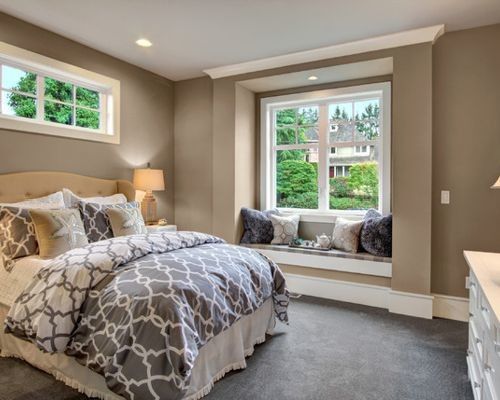 SHOP THIS BEDROOM LOOK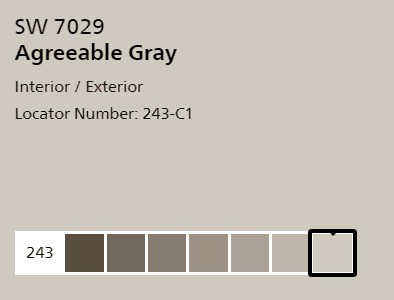 Sherwin Williams Agreeable Gray 7029
Agreeable gray has a brown/ slightly taupe undertone. The brown undertone keeps it on the warm side, not allowing it looks too cool. As the perfect greige, this color is an effortless neutral that brightens a space providing warmth and blending seamlessly with almost any color palette. Agreeable Gray is one of the most popular Sherwin Williams grays. It's a definite go-to neutral for many people and it's another gray paint color I always suggest to customers.
If Agreeable Gray is a bit too cool for you, consider checking out the warmer Accessible Beige. Don't be fooled by its name either, Accessible Beige has a little bit of gray in it and can be considered a greige.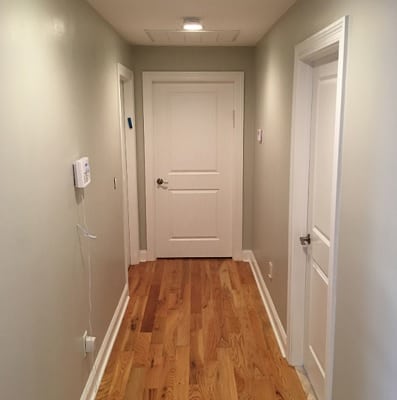 Grab these amazing painting tools! They will only make your life easier!
Sherwin Williams Worldly Gray 7043
Worldly Gray is quite a soft color. It has brown and green undertones that give the paint color a subtle greige feel to it. Worldly Gray can look more like a greige or gray depending on what's going on in your space, giving a room a soft look to it.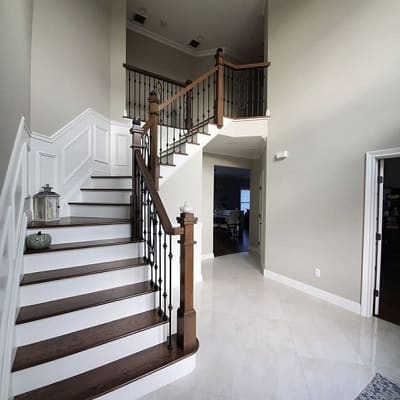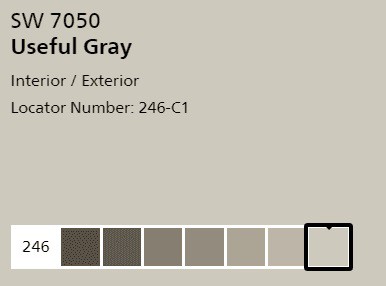 Sherwin Williams Useful Gray 7050
Useful Gray is a warm and sophisticated neutral color with beige undertones. This gray brings the perfect amount of warmth if you love gray, but are not fond of the coolness some gray paint colors can have. Pairing Useful Gray with an off white, and deep espresso brown will give you that classic and timeless pallet, working well with several decorating styles.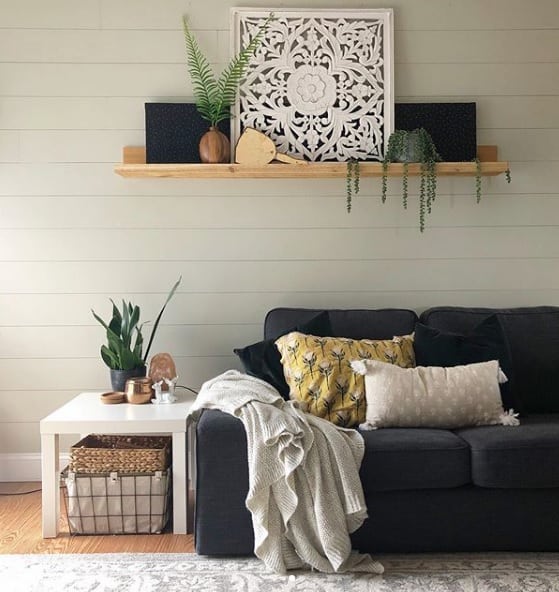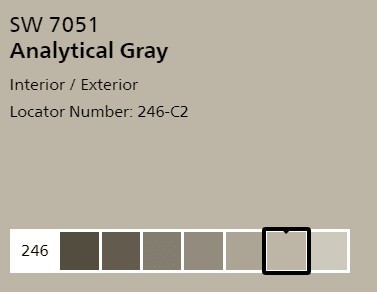 Sherwin Williams Analytical Gray 7051
Analytical Gray is mildly similar to Useful Gray but with a certain depth to it. Both colors are light and warm with beige standing out to be dominant. Analytical Gray is a fantastic neutral color, beige mixed with just the right amount of gray.
Photo by SAB Homes LLC – Browse dining room photos
Need a trim color to go with one of these gorgeous SW grays? Check out the 8 Best White Paint Colors for Trim & Baseboards.
Looking For More Paint Colors?
---
KEEP TRACK OF YOUR PAINT COLORS
Are you looking for a way to keep track of all the paint colors in your home? Have you ever had to touch up some paint in your home and you forgot what the paint color was? It's like you are playing the guessing game, what color, paint, finish, and brand. It's completely frustrating! I have the perfect solution to keep your paint colors all in one place. My simple paint color tracker can keep you and your paint colors organized!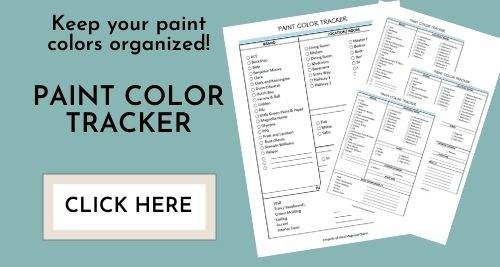 ---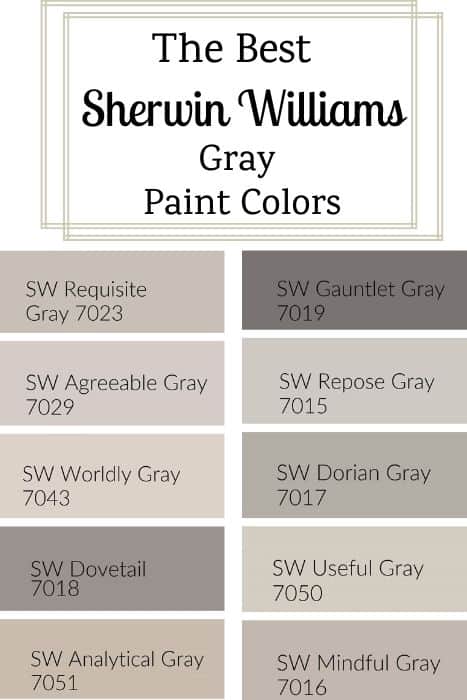 RECAP- THE BEST SHERWIN WILLIAMS GRAY PAINT COLORS
Here's your quick list of the absolute best gray paint color from Sherwin Williams.
Repose Gray
Mindful Gray
Dorian Gray
Dovetail
Gauntlet
Requisite Gray
Agreeable Gray
Worldly Gray
Useful Gray
Analytical Gray
Use Samplize Peel & Stick Paint Samples for a mess-free way to test paint colors!
Every space is different. My biggest recommendation is to pick 3 Sherwin Williams gray paint colors you are drawn to, get samples, and paint swatches in the rooms you want to paint.
Don't paint small dinky swatches either.
I'm talking big, large, monster swatches so you can actually see the color. Then live with them for a few days checking the swatches in different lighting. You want to make sure you are covering all bases before choosing your perfect gray.
READ MORE:HOW TO TEST PAINT COLORS
No matter the gray you choose, finding balance is key. Bringing in texture and warmth with your decor pieces such as, fabric, wood, and fixtures will help make the room not feel cold and bleak.
---
Looking for an easier way to swatch paint colors? Try Samplize Peel & Stick paint samples. These peel & stick paint samples let you test a paint color in all different areas of a room. You know how I feel about testing paint colors in all lighting situations. And the best part about Samplize? They are mess-free! Check them out for yourself, you won't be disappointed.

TRY SAMPLIZE NOW

READ MORE: 14 PAINTING MISTAKES DO-IT-YOURSELFERS MAKE
---
Before you go, Grab your FREE Interior Painting Checklist!
SUBSCRIBE TO MY EMAIL LIST AND GET A FREE COPY OF MY INTERIOR PAINTING CHECKLIST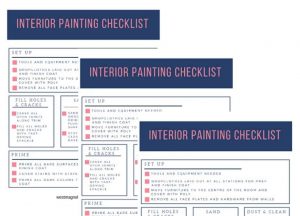 Want more paint color options? Grab a paint fan deck and find your perfect color!
Planning on tackling a painting project on your own? Use these tips to help you paint your room like a pro.
Don't forget your tools and accessories!
Drop clothes are a must for any painting project. Paint is messy! Save yourself the time and hassle of unnecessary cleanup by using drop clothes. You'll be happy you did.
A high quality paint brush will go a long way. Same goes for paint rollers.You want to use tools that will work with you, making your painting job easier.
Sours: https://westmagnoliacharm.com/best-sherwin-williams-gray-paint-colors/blog/
10 Best Gray Paint Colors by Sherwin-Williams
Looking to paint a room, cabinets or doors gray? When it comes to finding the perfect shade there are hundreds of pale grays, dark gray, and darker shades of greige. It can be overwhelming to narrow down! Natural light plays a big role in how a color will look, sheen of the paint, the size of the room, and what furniture you have in the space.
I spent hours researching the most popular Sherwin-Williams gray paints and narrowed it down to ten favorites. Below I share information about each paint color, swatches of each paint color, and the colors in rooms and some on cabinets.
The goal of this article is to help you narrow down which paint color would work well for your home. While I worked hard to capture the swatches' true color, the swatches below will vary some from the actual paint colors. Please visit your local paint store for paint samples before making your final decision!
Quick Tip: This article includes the RGB and LRV value for each paint color. RGB represents how much Red, Green, and Blue is in each paint color. On the LRV scale, O absorbs all light (black) and 100 reflects all light (white).
SW Agreeable Gray is a very popular color choice and is a warm shade of light greige. If you are deciding between this color and Repose Gray, Agreeable Gray is the warmer color between the two.
R: 209 G: 203 B: 193 LRV: 60
below image source of Agreeable Gray in nursery: Living Letter Home
below image source of Agreeable Gray in dining room: Green with Decor
SW Repose Gray is another popular color choice in the greige category, but a bit cooler than Agreeable Gray. It was a pick for the Pottery Barn Kids - Fall/Winter 2019 collection.
R: 204 G: 201 B: 192 LRV: 58
below image source of Repose Gray: Rain on a Tin Roof
below image source of Repose Gray on cabinets: Table & Hearth
This color is a mid-tone cool gray with a slight blue undertone. SW Light French Gray is in the Historic Color Collection and is a good neutral option for interiors and exteriors.
R: 194 G: 192 B: 187 LRV: 53
below image source of Light French Gray: Jennifer Allwood
SW Mindful Gray is a shade darker than Repose Gray and a shade lighter than Dorian Gray. It stays on the light side of a mid-tone gray, and shows beautifully against white trim and white furniture. This gray has a touch more red than green and blue, but is overall neutral.
R: 188 G: 183 B: 173 LRV: 48
below image source of Mindful Gray in bedroom: Sonya Barker
below image source of Mindful Gray on cabinets: Evolution of Style
SW Amazing Gray is a warm gray a shade darker than Worldly Gray. This color shows up well against white trim and is a solid choice for interiors and exteriors.
R: 190 G: 181 B: 169 LRV: 47
below image source of Amazing Gray: Dimples and Tangles
SW Dorian Gray is a mid-tone gray one shade darker than Mindful Gray. Its greige tone is a popular color choice for cabinets and doors. Included in the PBteen Collection - Fall/Winter 2019
R: 172 G: 167 B: 158 LRV: 39
below image source of Dorian Gray: Maison de Pax (visit link for more office pictures)
below image source of Dorian Gray on cabinets: Pink Peppermint Design
SW Worldly Gray is a light warm gray, a shade lighter than Amazing Gray. It is a similar color to Agreeable Gray with a little more green in it.
R: 206 G: 198 B: 187 LRV: 57
below image source of Worldly Gray in office: Atta Girl Says
SW Anew Gray is a shade darker than Agreeable Gray and is between beige and gray (basically a warm greige). This color gives good contrast against white trim and is a good option for cabinetry.
R: 191 G: 182 B: 170 LRV: 47
below image source of Anew Gray on cabinets: Evolution of Style
SW Comfort Gray is in the green family one shade darker than Sea Salt. I selected this color for its blue green vibe perfect for coastal decor.
R: 190 G: 195 B: 187 LRV: 54
below image source of Comfort Gray: Sand & Sisal
below image source of Comfort Gray: Home Stories A to Z
SW Online is a good cool neutral paint option. This color can show blue in some light and pairs well with cool or warm-toned furniture.
R: 176 G: 181 B: 181 LRV: 45
below image source of Online: Charleston Crafted
This article was written to help you to narrow down the right color choice for your home--whether it is the perfect greige, a light gray, or in the neutral grays family. Gray paint can go warm or cool, and how it looks on a wall or cabinets will vary depending on how much light you get in a room.
Have you painted your home with any of these colors or have a favorite?
Sours: https://www.tagandtibby.com/blog/10-best-gray-paint-colors-by-sherwin-williams
Just For Men - Touch of Gray 1
Find It: The Perfect Grey Paint that will Outlast the Trend
Grey is a beautiful neutral colour, but I believe that the over-the-top grey home trend will soon be coming to an end, in the same way that the builder beige and brown trend bit the dust.
Let me explain.
It seems we've gone a bit overboard with the grey trend. Whole homes are being done in this colour the same way that white is used as a neutral backdrop.
Personally, I find all-grey spaces a bit too lifeless and cold. Some are too much on the blue side and it can actually make you feel blue as well. Others are just cold and or too dark and make a space feel like a cement jail cell. Especially when you have grey walls, grey cabinets and grey furniture all piled on top of one another, it just makes for an uninteresting and at the same time overwhelming experience.
In other applications, dark greys and blue-greys look stunning, like on kitchen cabinets for example. BUT that's a problem too: because a look that stuns your eyes will eventually run it's course and you'll tire of it quickly. That's the reason I always stick with a classic white or light wood kitchen (which, IMHO, will never go out of style and is a soft, calming backdrop in your home).
That said…
I do think that a light misty grey or a light grey that's slightly on the warm side (aka greige) can be timeless and very natural in a home. A misty grey is very soothing and bounces light around, whereas greige is a naturally muted backdrop that feels warm and welcoming.
Also, using grey strategically in certain areas of the home can work well. For example, a soft neutral grey can neutralize overly yellow or reddish floors and cabinets. Warm greys can liven up a north facing room with low light. And a dark slate grey in a small powder room or accent wall works really well.
So I'm not dismissing grey - not at all.
I just advise using it strategically and choosing a light or neutral warm grey tone. And then layering in elements in a different palette for cabinets and furniture and decor.
How to choose a grey paint that will outlast the trend
I've put together this full list to help you choose the right grey paint. These tried and true- go-to shades of grey below will work well in most rooms and will outlast the trend. Take a look at more shades down the page and examples of how they've been used in homes.
Sours: https://www.simplehomesimplelife.com/blog/grey-paint-colours-to-outlast-the-trend
Gray sw touch of
Your shit is not like someone else's Won't make you vomit. So dont press, dont blow your lip, And then I'll fuck you to death. No, I'm lying, such a super whore It's hard to fuck up to death, Rather, I'll die in my labors, Changing the hole behind the hole. Pussy, point, as well as mouth, I do not take into account the ears, So substitute the ace of diamonds, And I'm weak for you.
THE GRATEFUL DEAD Touch Of Grey (lyrics)
And then I felt the sperm pouring into my mouth. part poured on my chest. he wiped his penis on my pussy.
You will also be interested:
Area and layout). Showers were on the right and left near the entrance, the floor was covered with some kind of artificial panels and was apparently heated. My feet were not cold, and the room was warm. In the center of the hall there was a pedestal, half a meter high, measuring about 6 by 6 meters, covered with a carpet.
Along the perimeter of the hall, there were the same floors, also covered with carpets.
790
791
792
793
794