Serendipity (aka Serendipity the Pink Dragon aka Serendipity the Pink Dinosaur) is a pink sea creature of an unknown species who protects Earth's oceans from land-dwellers in Steven Cosgrove's childrens book 'Serendipity'. In the animated series she protects the waters around the island of Capri from the incursions of a persistant fisherman. In the book she learned to always help when possible and given the task of protecting the oceans by the Leaders of All Fish (a Dolphin and Walrus who practically raised her).
Biography
The Book
As an egg Serendipity was encased in ice where she lay dormant for years until she was carried by way of iceberg to warmer waters.The warmer weather caused her to awaken in her egg and hatch; she was wobbly and scared. A wave caused the iceberg to capsize and herself to slide into the water but having recently hatched she didn't know how to swim. She was saved from drowning by a walrus who taught her how to swim. The walrus gave her the name Serendipity and began to lead her to the Island of Capri where fish from all over the world gather. As years went by and the two continued to travel to Capri Serendipity grew in size until she was far larger then the walrus. One day she and the walrus heard sounds of distress and found a dolphin snagged in a fishing net. She was unsure if they should help to which the walrus told her to always help when ever you can. As the walrus cut the net with his tusks the Fisherman responsible arrived shouting at Serendipity and the walrus to get away from his catch. Without thinking Serendipity overturned the man's boat. The man sputtered about in the water as Serendipity pondered what to do before she lifted him onto the boat where he clung to safety. She, the walrus, and dolphin continued traveling to Capri where the Dolphin had been heading prior to being caught in the net. They passed through an oil spill along the way. Due to her size Serendipity was covered the most in oil and garbage and tried to rid herself of the grim by bobbing up in down in the water which created larger and larger waves until the oil and trash was carried to the shore where some of the land-dwellers had gathered with most being covered in the filth by the waves. The walrus was very amused and pleased to see this sight and let Serendipity know such. Once at the Island of Capri the walrus and dolphin left her side. She waded in the water for a time, determining that she wasn't going to find out who she is just sitting there she pushed a great multitude of the fish gathered at Capri to find the leaders- to her surprise they where the walrus and the dolphin she had traveled with. Confused as to why she had to come all the way to this island to find out the two explained that together the three had encountered much along their journey. Serendipity had shown herself to be kind and brave. As for who she was; she was Serendipity the name given to her. She realized this was correct and then asked what she was to do to which the leaders informed her that she was now the largest creature in the ocean and her task would be guarding the oceans from the land-dwellers. The book ends with caution that if you throw garbage into the sea you should row away as quickly as possible for there will be Serendipity.
Serendipity Stories: Friends of Pure Island
Loyalties
Sernedipity in the book operates under the authority of the 'Leaders of All Fish' and it is they she is loyal to. In the anime she's loya to Kona/Bobby and protects the Island of Capri for more personal reasons.
Powers and Physical Attributes
Serendipity is able to create large waves by bobbing up and down in the water and uses such to push trash from the ocean to the shore of the land from which it came. It's implied in the book that Serendipity is larger then a whale by the story's end. Specifically that she's the largest 'fish' in the sea with the Leaders of All Fish considering every aquatic creature (Dolphin, Walrus, etc) to be Fish and Whales being stated as in attendance to the gathering at Capri Island. This would make her over 29.9 meters long. This size is how she is able to create such great waves. In the animated series she is much smaller then she is at the end of the book and not shown to be capable of creating such waves. As the book states she nearly drowned due to not knowing how to swim as a hatchling it can be infered that much like the Walrus and Dolphin she traveled with she herself needs air to breath. 
Source Citation
Serendipity by Steven Cosgrove (copyright 1974)
Serendipity Stories: Friends of Pure Island (1983 Japanese Animated TV Show)
Sours: https://hero.fandom.com/wiki/Serendipity
Inktober 10-23-15 "Serendipity"
Does anyone remember the book series and Japanese anime about the pink sea monster named Serendipity?

Thinking back, I remember watching alot of weird, obscure cartoons growing up. Most were innocuous enough, such as a pink sea monster hatching from an iceberg to become an environmental protector, or David Copperfield with singing cats.

But then there was the Brave Frog, where frog immigrants were slowly killed off by the frog mafia. 0_o

Inktober 2015Inktoberserendipitysea monsterpen and inkPainting Dragon FeatherspaintingdragonfeathersJ.D. Donnelly
nimly liked this
paintingdragonfeathers reblogged this from paintingdragonfeathers and added:

Yup, there was an anime. I did some research while drawing this, and while the show was apparently 26 some episodes,...

lackofa liked this
lackofa said: Omg serendipity is that what it was called? I could never remember the name, just the images. I loved the style of those books when I was a kid. Didn't know Japan made an anime series on it tho, neat
Sours: https://paintingdragonfeathers.tumblr.com/post/131747223482/inktober-10-23-15-serendipity-does-anyone
A Serendipity Collection -Serendipity and Her Friends (Serendipity Books)
We're sorry; this specific copy is no longer available. AbeBooks has millions of books. We've listed similar copies below.
Description:
Spine creases, wear to binding and pages from reading. May contain limited notes, underlining or highlighting that does affect the text. Possible ex library copy, will have the markings and stickers associated from the library. Accessories such as CD, codes, toys, may not be included. Seller Inventory # 3409123548
About this title:
Book ratings provided by Goodreads:4.47 avg rating•
(112 ratings)
Synopsis: Presents a collection of stories about Serendipity, a large sea creature, and her friends.
"About this title" may belong to another edition of this title.
Bibliographic Details
Title: A Serendipity Collection -Serendipity and ...
Publisher: Price Stern Sloan
Publication Date: 2003
Binding: Hardcover
Illustrator: James, Robin
Book Condition: GOOD

Sours: https://www.abebooks.com/Serendipity-Collection--Serendipity-Friends-Books-Stephen/30964858208/bd
Serendipity the Pink Dragon (Dubbed Film)
Serendipity the Pink Dragon
I had Okami_Amaterasu as my partner for the Epic Saturday Morning Cartoon Swap at the arena. On her list of Cartoon Characters was Biniki the pink dragon, or as we in the states know her, Serendipity. I thought it would be fun to try my hand at a little sea monster pony. I was so afraid she'd break in the mail, so she had loads of pink bubble wrap to keep her company on the trip
Thankfully Okami loves her and she made it in one piece!
Enough chit-chat though and on to the custom!
All the sculpting has been done with Apoxie sculpt, with a wire base in the tail and fins for stability. Painted with acrylics and sealed with Testor's Dullcoat (which I love love love sooo much more than modge podge :heart: ) with triple gloss sealent on her eyes.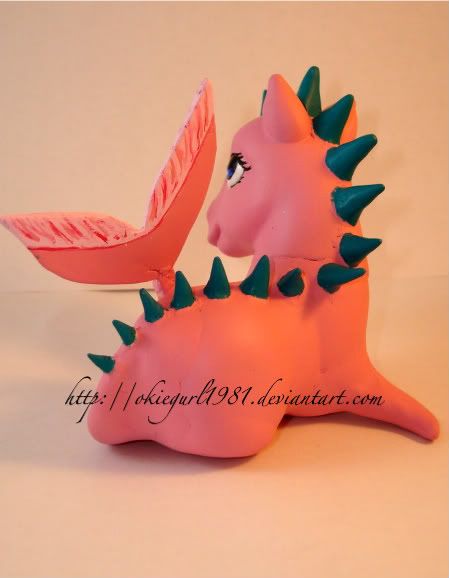 I'm also trying something new with my eyes. Going with a gradual gradient from one side to another. I think I'm liking the effect.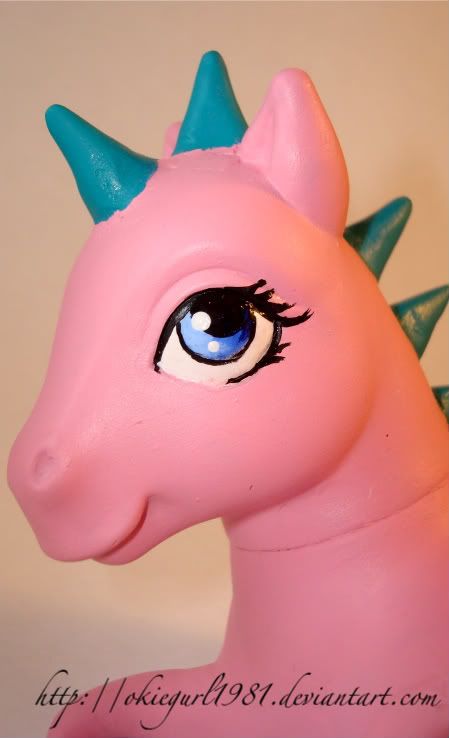 Sours: https://www.mlptp.net/index.php?threads/serendipity-the-pink-dragon.87693/
Sea monster serendipity
Serendipity the Pink Dragon
#
Title
Original airdate
1
"Yasashi no hamabe de tanjou" (優しの浜辺で誕生)
July 1, 1983 (1983-07-01)
2
"Pyua shima no joou" (ピュア島の女王)
July 8, 1983 (1983-07-08)
3
"Yousei-tachi no umi" (妖精たちの海)
July 15, 1983 (1983-07-15)
4
"Taiyou to nakama-tachi" (太陽と仲間たち)
July 22, 1983 (1983-07-22)
5
"Tentekku wa choukoku-ka" (テンテックは彫刻家)
July 29, 1983 (1983-07-29)
6
"Tobidashita Pirapira" (飛び出したピラピラ)
August 5, 1983 (1983-08-05)
7
"Kaori no hana saiban" (香りの花裁判)
August 12, 1983 (1983-08-12)
8
"Roora hime no sainan" (ローラ姫の災難)
August 19, 1983 (1983-08-19)
9
"Ya no tobu yashiki" (屋の飛ぶ屋敷)
August 26, 1983 (1983-08-26)
10
"Umi no hoshi no sasayaki" (海の星の囁き)
September 2, 1983 (1983-09-02)
11
"Yoru no sukooru" (夜のスコール)
September 9, 1983 (1983-09-09)
12
"Kirereen-mura" (キレレーン村)
September 16, 1983 (1983-09-16)
13
"Yashi to rubii" (椰子とルビー)
September 23, 1983 (1983-09-23)
14
"Dai kaigi" (大会議)
September 30, 1983 (1983-09-30)
15
"Yama mo kawa mo umi mo" (山も河も海も)
October 7, 1983 (1983-10-07)
16
"Ningyo no namida" (人魚の涙)
October 14, 1983 (1983-10-14)
17
"Minta no kokoro" (ミンタの心)
October 21, 1983 (1983-10-21)
18
"Kaitei no yotto" (海底のヨット)
October 28, 1983 (1983-10-28)
19
"Nankai no serenaado" (南海のセレナード)
November 4, 1983 (1983-11-04)
20
"Kommata mondai" (困った問題)
November 11, 1983 (1983-11-11)
21
"Sora no sangoshou" (空の珊瑚礁)
November 18, 1983 (1983-11-18)
22
"Kodomo wa darenomono" (子供は誰のもの)
November 25, 1983 (1983-11-25)
23
"Suihei-sen no taiyou" (水平線の太陽)
December 2, 1983 (1983-12-02)
24
"Zendaimimon no daijigen" (前代未聞の大事件)
December 9, 1983 (1983-12-09)
25
"Sumajji ni ai o" (スマッジに愛を)
December 16, 1983 (1983-12-16)
26
"Yasashii mono wa un ga yoi" (優しいものは運がよい)
December 23, 1983 (1983-12-23)
Sours: https://en.wikipedia.org/wiki/Serendipity_the_Pink_Dragon
Rayman Origins music- Sea of Serendipity -The Lums of dreams (Glou Glou) Extended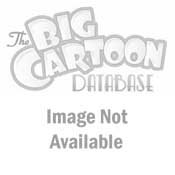 Serendipity Monogatari Yori, Pure Shima No Nakamatchi
Serendipity Monogatari Yori, Pure Shima No Nakamatchi (Series)
English Title: Serendipity The Pink Dragon
Serendipity Monogatari Yori, Pure Shima No Nakamatchi (Series) (Serendipity The Pink Dragon , The Story Of Serendipity: Friends Of Pure Island) (1983) Anime SeriesPost your Comments or Review
This page has been viewed 138 times this month, and 628 times total.
Cartoon Summary:
A boy narrowly escapes a sinking ship by landing on an iceberg, which later floats into tropical waters. The iceberg runs aground on an island, and as the last of it melts, a large pink egg is released from the ice. From this egg, Serendipity hatches. Serendipity and the boy become friends, and the dragon/sea monster eventually becomes the island's guardian.
Submit Additional Information:
Do you have anything to add to this page? Have we made any mistakes... or do you have any additional information about Serendipity Monogatari Yori, Pure Shima No Nakamatchi (Series)? If so, we would love to hear from you. Please send us a quick note with your additions or corrections to this page, and we will make the corrections as soon as possible!
Report Errors / Submit Additional Information
Cartoon Comments:
Do you love Serendipity Monogatari Yori, Pure Shima No Nakamatchi (Series), or do you think it is the worst cartoon ever? Let us know what you think! Surely you have an opinion... so share what you think. Take a minute and post your own comments about this cartoon here.
Sours: https://www.bcdb.com/cartoon-story/66374-Serendipity-Monogatari-Yori-Pure-Shima-No-Nakamatchi-(Series)
You will also be interested:
OS201 - Serendipity
Amenities
Featured Amenities
Pets Not Permitted
No Smoking or Vaping
Community Pool
Ocean View
Property Attributes:
Condo
Pets Not Permitted
Ocean View
Indoor Amenities:
Bed Linens and Bath Towels
Wireless Internet Access
Outdoor Amenities:
Easy Beach Access
Community Pool
Standard Amenities:
Keyless Entry / Self Check-in
No Smoking
Parking
Central Heat and Air Conditioning
Refrigerator, Oven, Stovetop, Microwave
Dishwasher
Coffee Maker, Toaster
Dishes, Utensils, Cookware
Washer / Dryer
Pillows and Blankets
TV with Cable, Satellite or Streaming Service
Outdoor Grill
Welcome Bag with Starter Amenities
Club Seaside Discounts on OBX Fun
Description
Ocean Views and Direct Beach Access Await You at this Nags Head Condo
Serendipity is a stunning oceanfront vacation rental home located within the south building at The Oceans, a desirable condominium complex in the heart of Nags Head. This two-bedroom residence is situated on the first floor of the building, providing direct and easy access to the community swimming pool that sits just steps away from your private deck as well as the pristine shoreline just beyond the sand dunes.
Step outside onto the large deck before dawn breaks to soak up some sunshine and enjoy a cool sea breeze as you sip your morning coffee. Several seating areas are provided to ensure there is plenty of space for everyone in your family to kick back and relax while you listen to the sounds of the surf and watch an incredible display of colors in the sky as the sun rises out of the water.
With a gate and just three steps leading directly from your private deck down into the pool area below, you'll quickly and easily be able to run back and forth from this beautiful condo to the poolside or the shoreline throughout your day of fun in the sun. A day at the beach doesn't get much more convenient than that!
Dozens of Local Restaurants and Attractions are Only Minutes Away
When you vacation at Serendipity, you'll not only have easy access to the Atlantic Ocean and the wide sandy beaches of Nags Head right in your backyard—you'll also be just minutes away from an array of Outer Banks restaurants and attractions. Within less than one mile from your home away from home you'll find Surfin' Spoon Frozen Yogurt, The Kill Devil Grill, Miller's Seafood and Steak House, Red Drum Grille & Taphouse, and Pigman's Bar-B-Que. A large chain grocery store is also just two minutes from Serendipity should you choose to cook most of your meals at home and enjoy them with an ocean view.
Among the many Outer Banks attractions and landmarks that are located nearby, you'll find Jockey's Ridge State Park—the largest natural sand dune system on the Eastern Seaboard, and one of the best places on the beach to catch a sunrise over the ocean or a sunset over the Roanoke Sound—as well as the Wright Brothers National Memorial, Nags Head Woods Preserve, Dowdy Park and several miniature golf courses that promise to provide fun for the entire family.
Gorgeous Décor and Updated Furnishings Make You Feel Right at Home
From the moment you use our hassle-free keyless entry system to access this spectacular Nags Head condo, you'll be wowed by the dedication to detail its owners have paid while updating it with gorgeous décor and the most comfortable furnishings.
Gather around the large flat-screen TV in the living area to catch up on your favorite movies or shows, or get together at the dining room table to partake in a fun-filled game night. A spacious fully stocked and renovated kitchen features stunning design and serves as the perfect place to whip up a home-cooked meal that you can enjoy in the comfort of the condo or on the private oceanview deck for an al fresco dining experience.
With its beautiful décor, ocean views, direct access to the beach and community swimming pool, and its close proximity to a variety of area attractions, Serendipity is sure to become your new home away from home. What are you waiting for? Book your stay at this incredible oceanfront condo today!
Bedding: 1 King, 1 Pyramid Bunk, 1 Queen Sleeper Sofa
PROPERTY LAYOUT:
One-level condo: Master Suite with King Bed & Full Bathroom; Bedroom with Pyramid Bunk Bed; Full Hall Bathroom (standing shower only)
Milepost: 10.25
Property Details:
Keyless Entry (no check-in at office required)
Living Area, Dining, Wet Bar, Kitchen
Ocean Views & Pool Views
In-home Laundry (stackable in the hall closet)
Exterior:
Oceanfront Community Pool
Direct Beach Access
Spacious Parking Lot

Trailers, campers, and RV's are not permitted
NOTE: NO PETS. NO SMOKING. FAMILY GROUPS ONLY.

*Pools are subject to availability. For open/close dates and other pool-related information, click here.
Bedrooms
1 Bunk Bed Double and Single
Map
Reviews
Stress Free Vacation
Reviewed on 2020-03-18 by Mary Beth
FAQ
What do all the different locations mean?
There are two (2) roads running north/south on the Outer Banks. The "Beach Road" (NC 12) is a 2-lane road with a speed limit of 35 MPH. The "Bypass" (US 158) is a 5-lane road with speed limits 45-50 MPH. 
Please note: The Bypass is incredibly busy during the summer season on the Outer Banks. Seaside Vacations advises our guests to please take safety precautions when traveling on the Bypass. If you must cross the Bypass on foot, please make sure to do so at designated pedestrian crosswalks - never using the center turn lane as a stopping point.
Oceanfront- An oceanfront home has no homes or buildable lots located between it and the ocean. The distance between the home and the ocean may vary. 
Semi-Oceanfront- Semi-oceanfront homes are located one lot back from the ocean and may or may not require crossing the road. Children always will need assistance to cross any road. The rental may or may not have a home between it and the beach. The distance to the water, beach accesses, and views vary.  
Oceanside - These homes are located east of Highway 158. These homes have two or more homes between them and the ocean. These homes may or may not require crossing a road, and may or may not have an ocean view. The distance to the ocean varies. 
Soundside- These homes are located west of Highway 158 from Southern Shores to Nags Head and west of Highway 12 from Southern Shores to Corolla. The distance to the sound and views vary. Some homes may not have direct access to the sound (soundside homes in the village of Duck do not have direct access to the sound).  
Soundfront - These properties front the sound with no homes or lots in between. The distance to the sound, access to the sound and the view vary. Sunsets can be gorgeous! 
Do you offer any travel insurance? 
We offer travel insurance through Red Sky Travel Insurance. We highly recommend a travel insurance plan, especially since the Outer Banks is so prone to hurricanes. The travel insurance plan is priced affordably and covers a variety of issues that could impact your vacation should unforeseen circumstances occur. As they say on TV, "Life comes at you fast." Most notably would be a mandatory evacuation due to a hurricane. Here are a few other things covered by travel insurance: sickness, injury or death of you or a family member, business partner, or traveling companion, the insured's principal residence being made uninhabitable by fire, flood, vandalism, or burglary, involuntary termination of employment, military duty, etc.
If you would like to have specific questions answered, please call RedSky Travel Insurance at (866) 889-7409 or visit www.suntrippreserver.com (policy coverage information).
Remember, in order to have coverage due to a named hurricane, a travel insurance plan cannot be added after a tropical storm becomes a "named hurricane." We tell you this because it could be very costly to wait. You would have to contact Red Sky Travel Insurance for specific details.
Do I have to pay any taxes on my rental? 
Unfortunately, the tax man doesn't take vacations. Obviously, we do not set the tax rates and we only collect the taxes for the county. If your rental home is in Currituck County (Corolla), the tax is 12.75%. If your home is in Duck, Southern Shores, Kitty Hawk, Kill Devil Hills, or Nags Head, the tax is 12.75%.
I don't see rates for next year. When will these be available?
We publish rates for the following year in March of the current year. You may reserve the home by paying the first half of the rent or by setting up payments with our Vacation Layaway Program.
What/where is Club Seaside?
Club Seaside is an exclusive program consisting of complimentary events and discounts on popular Outer Banks activities that are exclusive to Seaside Vacations guests. Click on Club Seaside to obtain more information including schedules, contact information and to make reservations for each activity.
*Some events include a small fee.
Are linens and towels provided? 
Linens and towels are provided forALL of the homes in our vacation rental home program. Normally, all beds are made prior to arrival (with exception of top bunks). However, due to Covid-19 safety measures, beds will not be made prior to arrival for the 2021 season.
Towel sets are also provided. There are enough towel sets for the number the house sleeps.
One bath towel, one hand towel and one washcloth per person is provided. The towels are placed on each bed in the home. One bath mat per bathroom is also provided. (Towels are not freshened daily.) Two potholders, one dish towel and one dishcloth are provided and are placed on the kitchen counter prior to your arrival.
We do offer extra sets of both towels and linens at an additional charge. For prices and to place an order, contact a Vacation Specialist at (866) 884-0267.
Please Note: Bunk beds, pyramid bunks, sleep sofas and trundle beds are not made prior to your arrival. Linens are provided for them and are placed on the respective bed. Unfortunately, we do not provide sheets for cribs.  
Does my property have internet access and how is the WiFi? 
Most of our properties do offer internet access. Please check your property's website description to determine what type of internet service (if any) is available. If your home doesn't provide this service, there are many free WiFi hotspots all over the Outer Banks. 
Wifi is normally very good, however, being in a remote area there are occasional unexpected outages. In those events, we will do everything in our power to get service restored as quickly as possible, but we would recommend bringing a hotspot as a backup plan if wifi is a necessity for your family.
Below is the lowest broadband speed for Dare County's internet providers:
Spectrum: 50MB
Century Link: 10MB
What are your policies on bringing a pet? 
Most dog friendly homes allow two (2) mature, house-trained dogs (75-pound limit). Dogs are not allowed in any rental home unless otherwise indicated. Cats and other animals are not permitted. A fee (plus tax) per dog per week is added to the rental amount. Dogs (and any other animal) are not allowed in pools, hot tubs or spas. Tenants are responsible for any damage incurred by their dog, as this type of damage is not covered under our Security Deposit Waiver Fee. Owners of dogs at non-dog homes will be subject to a $200 unauthorized pet fee and may be evicted without a refund. 
Please be aware that all of our beaches have leash laws.
Our vacation home has a pool. Can we have the pool heated? 
Pool heat is available with some of our homes typically between April-June and September-October. There is an additional charge for pool heat and this charge varies by home.
Please remember that most pool heaters will only heat the water 5 to 8 degrees above the outside air temperatures. For example, if the air temperature is only 60 degrees, the pool water will likely be no warmer than 68 degrees. Pool heat does not give a "hot tub" effect, it merely prolongs the pool swimming season.
Please know that we want to get all of our guests into their vacation home as soon as we can. Our check-in time begins at 5:00 p.m., as the houses become available and are released by Housekeeping and Maintenance. We will be happy to check you in as soon as the cleaners/inspectors give us the "OK." Again, please know that our goal is to get you on your way, enjoying your vacation, as soon as we can.
I have keyless entry. Do I still have to come to the office?
Our keyless entry service allows you to go straight to the home on check-in day, any time after 5:00 p.m.! In addition, when checking out, you may head straight home (skipping our office).
Do you offer early check-in? 
We do offer early check-in for homes with 1-5 bedrooms, but we do ahve a limited number available each week. Please call us and request an early check-in at least one week in advance. The cost for early check-in is $125, plus tax. Early check-in is at 2:00 p.m. Unfortunately, we cannot offer this service on homes with 6 or more bedrooms.  
What are your check-out cleaning requirements?
Check-out is at 9:00 a.m. on the day of departure. Cleaning crews arrive at the home at 9:00 a.m.; your prompt departure is appreciated. 
All keys are to be returned to our office upon departure. (Keyless entry guests do not have to stop by the office to check out).
Please leave the home tidy by completing the following items:
Remove only the fitted/flat sheets from all beds and leave them piled at the foot of the bed
Clean out the refrigerator and leave the refrigerator/freezer settings on medium
Place all trash in the cans provided or in a nearby dumpster. Move trash cans/recycle bins to the edge of the street the night before you leave. Make sure all trash is placed INSIDE of the cans, or the trash will not be picked up (Pick-up is done prior to dawn.)
Please wash and put away all dishes or place them in the dishwasher and begin the cleaning cycle
Turn the thermostats to 75 degrees (summer) and 55 degrees (winter)
Please turn off all inside and outside lights
Leave grills, furniture, and accessories as you found them
Remove toys/trash from the pool area
Make sure the hot tub cover is secure
Make sure the propane tank has been shut off for all gas grills
If you have rented a pet-friendly home, please be sure you have cleaned up any pet waste from the premises
Please clean any and all grills using the grill brush provided
If any member of your party has smoked outside, please be sure all cigarette butts have been picked up from the grounds
Check closets, drawers and under beds for personal items
If you logged into a smart device or streaming program with your personal login information, be sure to log out
Please make sure you close and secure all windows and doors and also have someone check the security of all doors and windows from outside the home.
Can you drive on the beach in the Outer Banks? 
Beach driving is allowed on several places in the Outer Banks but permissions vary by town. Driving is allowed year-round in Corolla/4x4 Carova Beach Area north of the paved road but only allowed south of that point between October 1 and April 30 and parking permits are required in-season. Driving is allowed on the Cape Hatteras National Seashore at designated access ramps and with a permit only. Driving in Kill Devil Hills and Nags Head is permitted with a permit between October 1 and April 30 at designated access points. All 4x4 access areas are subject to change due to nesting wildlife or impending weather conditions at each town's discretion.
Which Outer Banks beaches allow bonfires?
Gathering around a beach bonfire is the perfect way to spend your evening. On the Outer Banks, bonfires are allowed on the beach in Nags Head, on Hatteras island and on Ocracoke Island under certain conditions and with a permit. Bonfires are prohibited on the beaches of Corolla, Duck, Southern Shores, Kitty Hawk and Kill Devil Hills. Learn more about having bonfires on the OBX.
What are the Outer Banks wild horses?
The Outer Banks Wild Horses (also known as the Corolla Wild Mustangs or Banker Mustangs) are a herd of wild horses who live in Northern Corolla and are descendants of horses brought to the "New World" by Spanish explorers. Banker Mustangs can be spotted roaming the beach, playing in the waves, and grazing on native vegetation. These mustangs, although docile in nature and beautiful to watch from afar, are still wild and should never be approached, touched or fed. The herd is managed and protected by the Corolla Wild Horse Fund. Learn more about the OBX Wild Horses.
What is the trash collection schedule?
Please click here to find the days of the week that trash collections will take place for each town.
Bag all trash and place it in the home's outdoor trash receptacles with the lids tightly closed.
Sanitation Cart Placement: To ensure that your trash and recycling cans are emptied, they must be placed out at the edge of the roadway the day before the scheduled collection service. Trash must be inside cans and the lid must be closed. The following cannot be placed into trash cans and will not be picked up: Oil, propane, paint, charcoal, yard waste, construction debris, or hazardous waste. Trash or recycling placed outside of or on top of the cans cannot be collected. Cans must be removed from the edge of the roadway and placed next to a building as soon as possible on the same day of collection. (Please put trash in the black and brown trash cans.)
Sours: https://www.outerbanksvacations.com/vacation-rentals/os201-serendipity
82
83
84
85
86